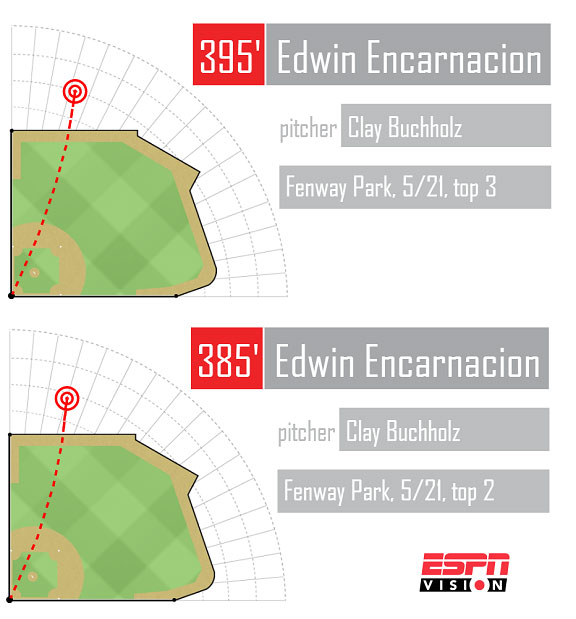 Edwin Encarnacion added two more home runs on Wednesday.
On May 5, there might have been some doubters as to whether Edwin Encarnacion could replicate what he'd done the previous two seasons for the Toronto Blue Jays. He had two home runs in 123 at-bats to that point in the season.
Those doubters have been silenced.
Encarnacion's Past 15 Games
Encarnacion on Wednesday had his second straight multihomer game, continuing a barrage in which he has hit 11 home runs in his past 15 games, helping the Blue Jays to another win over the Boston Red Sox.
The Elias Sports Bureau notes that Encarnacion's current power output is the most home runs in a 15-game span in Blue Jays history.
It is also his fourth multi-homer performance over his last 13 games, a feat that Hank Aaron, Willie May or Babe Ruth never acheived, according to Elias.
Encarnacion's seven multi-homer games since the start of last season are tied with Alfonso Soriano for the most in the majors.
How he's doing it
Encarnacion, who hits almost all of his home runs to left field, has hit 10 to left or left-center in this stretch and one to straightaway center.
He's shown the ability to hit the ball wherever it has been pitched. He's hit five home runs in the upper half of the strike zone, six in the lower half, five on the inner half of the plate (or off the inside corner) and six on the outer half.
Eight of the 11 home runs came on fastballs. The other three came on two changeups and a curveball, the latter coming on Wednesday against Clay Buchholz.
Encarnacion's tear has coincided with the Blue Jays' recent success. Toronto is 10-5 in its past 15 games.
Looking ahead
Encarnacion will face the Red Sox and Jon Lester on Thursday. Encarnacion has two home runs against Lester but is hitting only .205 in 39 at-bats against him.
Encarnacion will try to be the first player to hit multiple home runs in three straight games since Jeff DaVanon of the 2003 Angels.