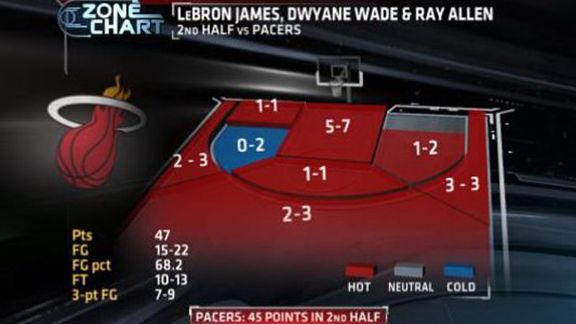 The Miami Heat "Big 3" came through in the second half as the Heat overcame an early 15-point deficit to take a 2-1 series lead over the Indiana Pacers.
But it wasn't the "Big 3" you're thinking of –- yes, it was LeBron James and Dwyane Wade, but Ray Allen stepped in as the third member of the trio.
Allen came up clutch with four 3-pointers in the fourth quarter, matching the most 3-pointers he's made in a fourth quarter in his postseason career (first time since 2009 he's done that). Two of those fourth-quarter 3-pointers came in transition, where the Heat outscored the Pacers 16-6.
Dwyane Wade This Postseason
James, Wade and Allen combined for 47 points in the second half, compared with 45 second-half points for the Pacers as a team.
Wade contributed at least 20 points for the fourth straight game, his longest postseason streak since 2012.
The comeback
The Heat trailed by 15 in the second quarter, tied for their second-largest comeback this season (regular season and playoffs). The game also matched the second-largest comeback by a LeBron James team in a postseason game.
It's the second time the Heat have overcome a 15-point deficit against the Pacers. They also did so on Dec. 18.
Bosh struggling
Despite the win, Chris Bosh has struggled against the Pacers.
Chris Bosh Postseason Career By Opponent
Bosh has fewer than 10 points in seven straight postseason games against the Pacers, dating back to last year.
In those seven games, he's averaging 7.9 points and 4.6 rebounds per game on 29.9 percent shooting.
When Bosh was on the bench (mostly with foul trouble), Rashard Lewis stepped in and gave the Heat a boost off the bench. Miami outscored Indiana by 21 points with Lewis on the court, holding the Pacers to 30.4 percent shooting during that time.
Is the series over?
The Heat are 7-1 in playoff series since LeBron came to town (since the 2011 postseason) when leading 2-1, with their only loss coming in the 2011 NBA Finals against the Dallas Mavericks.
The Pacers are 1-8 all time as an NBA franchise in best-of-seven series when trailing 2-1, with their only series win coming this postseason against the Atlanta Hawks.