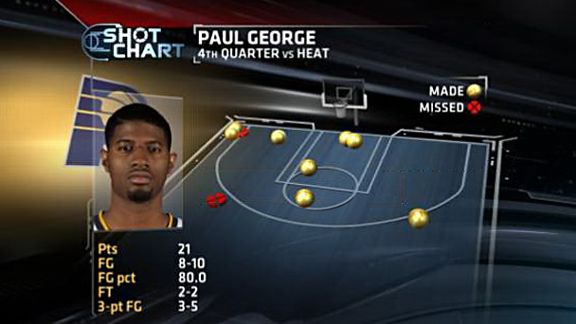 Paul George had a huge second half for the Pacers.
Paul George kept the Indiana Pacers' season alive with a LeBron James-like performance in Game 5 of the Eastern Conference finals.
But for James, it was a night he'll want to put out of his mind as soon as possible.
The Pacers extended the series to Game 6 in Miami by winning their eighth home game in their last 10 tries against the Heat. This marked the first time the Heat lost a Game 5 when leading 3 games to 1 since James and Bosh joined the team (they were 7-0 entering the day).
Curious about George?
George scored 21 of his 37 points in the fourth quarter and combined with David West to score the final 36 points of the game for the Pacers.
George made 8 of 10 shots from the field in the final 12 minutes after going 7 for 18 in the first three quarters. The 21 fourth-quarter points were the most he's scored in any quarter in his career.
George did most of his damage late in the game with Dwyane Wade defending. George was 10-of-14 overall against Wade Wednesday, including 5-of-6 in the fourth quarter. He was 2-for-10 against all other defenders (and 3-of-4 in transition).
Wade played tight defense on George, contesting every jump shot George attempted against him. George still managed to shoot 8-of-11 when Wade contested his jumper.
Not a good day for LeBron
James committed five fouls within the first three quarters of a game for the first time in his career and finished with a career postseason low seven points.
Lowest Pct Of Team Pts
Scored Or Assisted On
LeBron James Postseason Career
It was the second time he was held to single digit scoring in his career.
James drove to the basket only five times in the game and was 0-for-4 on those drives with a turnover. The Heat had averaged 10.5 points per game on his drives in the first four games of the series.
For those who enjoy comparing James to Michael Jordan, here's a stat to keep in mind. Jordan scored at least 15 points in every playoff game in which he played. James didn't reach half that number in Game 5.
Looking Ahead
The Heat are 9-0 at home in potential series-clinching games in the James-Wade-Bosh era.