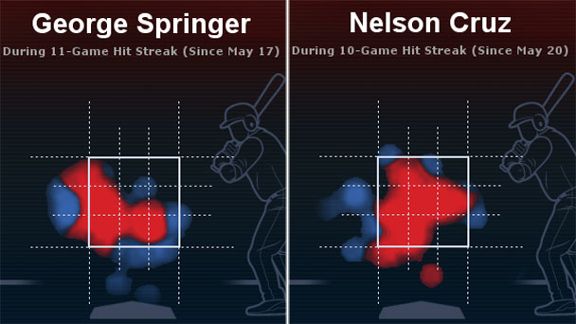 ESPN Stats & Information
Baltimore Orioles outfielder Nelson Cruz and Houston Astros rookie outfielder George Springer are two of the hottest hitters in Major League Baseball.
Cruz is hitting .472 with seven home runs and 12 RBIs during a 10-game hitting streak.
Springer is hitting .390 with seven home runs and 17 RBIs during an 11-game hitting streak. The homers all have come in his past seven games.
Most HR by Rookie in May
Past 100 Years
Springer is the second rookie in modern MLB history (since 1900) to hit seven homers in a seven-game span (Rudy York did so in 1937).
Springer has 10 home runs this month. In the past 100 years, Mark McGwire (15 in 1987) and Wally Berger (11 in 1930) are the only rookies with more homers in May.
Cruz and Springer are both hitting the ball hard lately.
Since May 17, Cruz (.348) and Springer (.341) lead the American League in hard-hit average (hard-hit balls per at-bat).
Springer ranks second (.610) and Cruz third (.578) in the majors in isolated slugging percentage (total bases minus hits divided by at-bats) since May 17.
Highest Slugging Percentage
MLB Since May 13
Five of Cruz's seven homers during his streak have come on fastballs. He's hitting .714 with a 1.929 slugging percentage on at-bats that end in fastballs during his streak, both of which lead the majors since May 20.
Springer is doing his damage on the outer half of the plate. During his streak, he's hitting .444 with four home runs against pitches on the outer half. Prior to May 17, he was hitting .203 with just one homer against pitches on the outer half this season.
Springer and Cruz look to continue their hot streaks when the Astros host the Orioles at 8:10 p.m. ET Friday.