May was a memorable month when it came to home-run hitting, particularly for a couple of players, one who couldn't stop hitting home runs and the other, who couldn't stop hitting long home runs. Here are our honorees for this month.
HR Hitter of the Month: Edwin Encarnacion
Edwin Encarnación hit 16 home runs in May, joining Barry Bonds, Mickey Mantle and Mark McGwire as the only players in major-league history to hit at least 16 May homers.
Most HR in May
After only going deep twice in April, Encarnación had five multi-homer games in May, tied for the most in a calendar month in MLB history.
Encarnación's May homers traveled a total distance of 6,639 feet, over 1,300 feet further than the next closest hitter (Nelson Cruz, 5,321 feet).
Encarnación pulled all but one of his home runs in May and has pulled 72 home runs over the last three seasons – the most in baseball.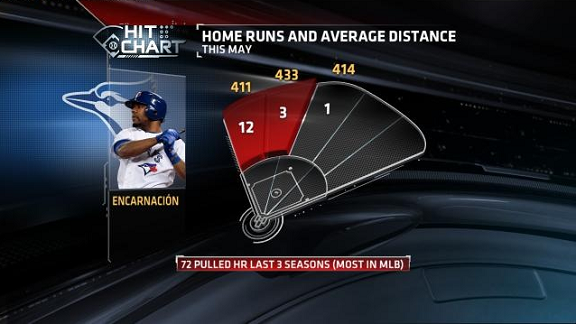 Trevor Ebaugh
Road Warrior of the Month: Nelson Cruz
Cruz warranted recognition in May as well and he gets it from us in this regard.
Cruz plays in homer-friendly Camden Yards, but showed he can hit home runs anywhere at any time. He had the most road homers of anyone in May with nine.
He averaged 414.4 feet per road homer, almost 17 feet longer than his average home run at home.
Long Drive Champion of the Month: Giancarlo Stanton
Giancarlo Stanton led the majors in average home run distance in May (minimum five home runs), averaging 437.1 feet per homer. Stanton hit eight home runs in May; the shortest of which was 412 feet (the average home run distance in baseball this season is 396.8 feet).
Stanton leads the majors in 450-foot home runs this year and crushed two in May to up his season total to five.
Stanton has more 450-foot homers than every other team in baseball.
On May 23, Stanton hit two homers calculated at 463 and 444 feet. The 907 total feet is the second-furthest total distance in a game this season, falling short by one foot to Michael Morse, who hit a combined 908 feet of home runs on April 23.
Longest homer of the month: Paul Goldschmidt
On May 28, Paul Goldschmidt drove a Troy Patton fastball 470 feet to center at Chase Field in Arizona for the longest home run of the month. The 470-foot home run is a career long for Goldschmidt.
Shortest Home Run of the Month: Miguel Cabrera
On May 17, Miguel Cabrera wrapped a home run around the Pesky Pole at Fenway Park that was calculated at 329 feet, the shortest home run of the season (not including inside-the-park homers). It is the shortest home run Cabrera has hit since ESPN began tracking home runs in 2006.
Short home runs in Boston are nothing new. Since, 2006, the 10 shortest home runs in the majors have all been hit at Fenway Park (excluding inside-the-park home runs).
Breakout Performance of the Month: George Springer
Astros rookie outfielder George Springer hit 10 home runs in May, including a seven-game stretch in which he hit seven homers. According to Elias, only one other rookie in baseball's modern era (since 1900) had a stretch to equal that (Rudy York, 1937).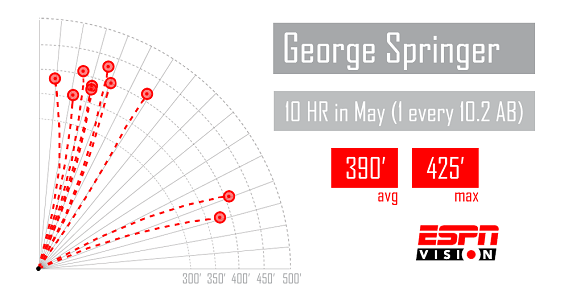 Trevor Ebaugh