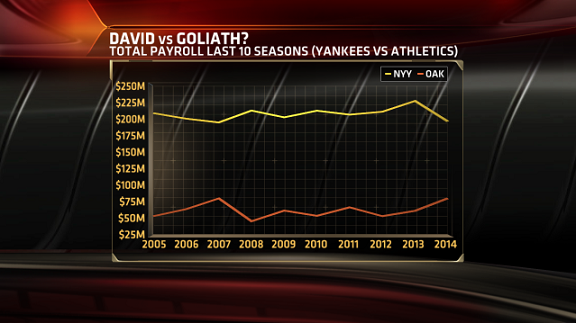 The Yankees and Athletics have been known for their different financial approaches.Wednesday Night Baseball (7 ET, ESPN) features the Oakland Athletics, who bring the best record in the American League to the Bronx to face the New York Yankees.
The Athletics enter with the best road record in Major League Baseball (19-10) while the Yankees are currently under.500 at home, a mark they haven't finished a season with since 1991.
In a classic matchup of David versus Goliath payrolls, here are a few key stats to know:
Moneyball
The A's total payroll is $80.9 million this season while the Yankees have not spent less than $80 million on their payroll since 1998 when they spent $63.2 million.
Despite a 30.6 percent increase in spending from last season, the Athletics only jumped one spot in the MLB ranks from 27th to 26th in terms of payroll.
This is actually the first season since 2001 the Yankees do not have the highest payroll in baseball. The Los Angeles Dodgers claim that title this year with a payroll that's $38.5 million higher than the $197.2 million spent by the Yankees.
Only the Miami Marlins spent less on their starting rotation this year than Oakland's $11.3 million, while the Yankees currently have three pitchers on the DL (CC Sabathia, Ivan Nova, Michael Pineda) who make a combined salary of almost $27 million.
Starting Pitchers
Starting Pitching – 2014 Season
The Yankees will send Vidal Nuño to the mound in search of his first career win at Yankee Stadiuim. Nuño is 0-3 in six previous career starts at home.
Nuño will face Athletics starter Jesse Chavez, who takes the mound as part of a starting rotation that leads the American League in ERA, WHIP and Opponent Batting Average allowed.
Chavez throws his cutter 37.5 percent of the time, the highest mark of any qualified pitcher in MLB. Only Jon Lester (43) has more strikeouts with his cutter this season than Chavez (27).
The Donald Comes to New York
According to Wins Above Replacement, Josh Donaldson has been the most valuable player in baseball over the last two seasons.
Highest WAR - Last two Seasons
Donaldson is one of only four players in the American League with .290 BA, .380 OBP and .500 Slug pct in the last two seasons (min. 100 games) along with Mike Trout, Miguel Cabrera and David Ortiz.
Prior to an 0-5 performance last night, Donaldson had reached base in 30 straight road games. The last A's player with such a streak was Mark McGwire from 1995 to 1996 (56 games).