First in a series of in-depth breakdowns of intriguing players.
What do Daniel Bard and Hall of Famer Bob Feller have in common?
They are two of the four AL pitchers to average 11 or more strikeouts per 9 IP in their first season. Bard's 11.5 K per 9 IP last season stands as the best ever for a first-year AL pitcher (min. 40 IP).
Sure, that's about where the comparison ends, so let's not get ahead of ourselves. After all, Feller was a starter who debuted at just 17, seven years younger than Bard. Indeed, the other two pitchers on the list are far more realistic comparisons for Bard. Both Troy Percival and Kaz Sasaki (a 32-year-old rookie) went on to enormous success at closer.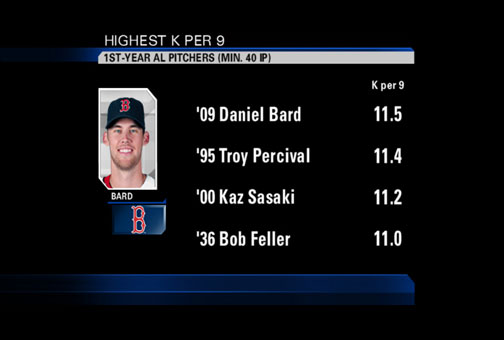 Bard has all the makings of an elite closer, and his development in 2010 should be fascinating. That's why Bard is One2Watch4: the first in our team-by-team look at intriguing and pivotal players. All-Stars need not apply, though. We'll break down key complementary players or rising stars.
If there's one thing we know about Bard, it's this: He flat-out brings the heat. Let's put some numbers to that though. According to FanGraphs, Bard's fastball averaged 97.3 mph. That was second to only Jonathan Broxton (97.7 mph) and ahead of Brian Wilson (96.6 mph). To find an AL pitcher throwing this hard, you have to go back to Joel Zumaya back in 2006 (98.6 mph).
Yet, one alarming trend emerged last season: Bard's lack of control on the road. He had 18 walks in 24 2/3 road innings compared to just 4 walks in the same number of innings at Fenway. His ERA followed suit, almost 4 ½ runs higher on the road.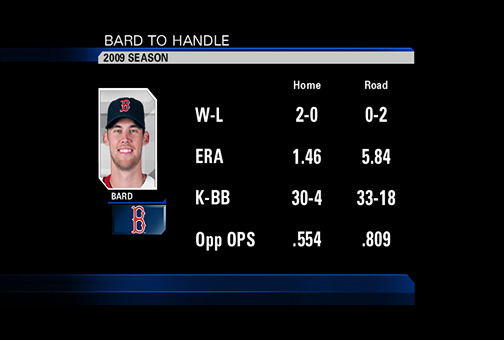 Rookie jitters? Small sample size? It was just three years ago that Bard walked 78 in 75 innings in Class A, a season that led to his switch to the bullpen. He's clearly a different pitcher now, but his ceiling will ultimately hinge on control.
So what should you watch for in 2010? As with many pitchers, it's all about the first-pitch strike. On the road, Bard's first pitch was a strike just 49 percent of the time, compared to 64 percent at Fenway and a league average of 59 percent, according to InsideEdge.
Bard had 48 strikeouts and just 2 walks after getting ahead 0-1, according to Baseball-Reference.com. But after a first-pitch ball, he had 20 walks compared to only 15 strikeouts.
Getting to 0-1 in count is particularly pivotal to Bard's success. Consider that 57 percent of his 0-1 counts became 0-2 counts (well above the league average of 47 percent). Then ask yourself this: How does 98 mph sound when the count goes to 0-2?
Tuesday's One2Watch4: The Rays