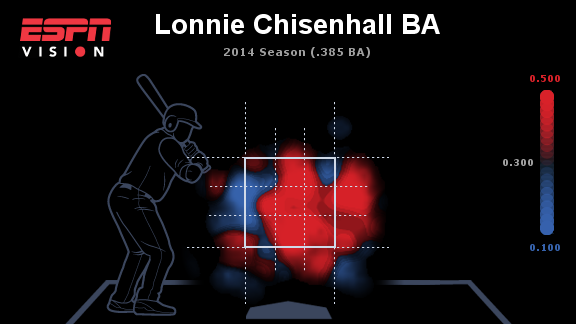 Lonnie Chisenhall is hitting everything in 2014.It would have been reasonable to dismiss Lonnie Chisenhall's start to the 2014 season as a fluke, given that his .365 batting average was driven partly by a success rate of getting hits on ground balls considerably above his career norms.
2014 STATS
GM

51

HR7

RBI32

R29

OBP.429

BA

.385
But Monday could put an end to the fluke thoughts.
Chisenhall had five hits, three home runs and nine RBIs in the Cleveland Indians' 17-7 win over the Texas Rangers on Monday night. The Indians are surging to the top of the AL Central, with nine wins in their past 10 games.
The history
Chisenhall became the fourth player with five hits, three home runs and nine RBIs in one game since RBIs became an official stat in 1920. The other three were Walker Cooper (1949 Reds), Gil Hodges (1950 Dodgers) and Fred Lynn (1975 Red Sox).
Chisenhall is the only one of those hitters who was also perfect at the plate (he went 5-for-5).
The Elias Sports Bureau also confirmed that the 25-year-old Chisenhall was the fourth-youngest player with three home runs, five hits and 15 total bases in a single game. The three younger ones were Lynn (age 23), Albert Pujols (age 24 in 2004) and Jimmie Foxx (age 24 in 1932).
Chisenhall's nine RBIs tied a club record, matching the mark set by Chris James in 1991. He's also the first player with a three-homer, nine-RBI game since Alex Rodriguez in 2005.
He's the third player with a three-homer game this season, along with Chris Davis and Ryan Braun.
How he's hitting
Chisenhall is succeeding on a number of fronts where he struggled prior to this season.
His strikeout rate is only 14 percent this season, compared to 19 percent from 2011 to 2013.
The reduction in strikeouts has come with an improvement against pitches on the outer half of the plate or off the outside corner. The miss rate has dipped on those pitches, coincidentally also from 19 percent (in his first three seasons) to 14 percent (this season).
Chisenhall has 45 hits and only 61 outs against pitches to that area this season, with 12 doubles and five home runs. His batting average against those pitches is .441.
Chisenhall got four of his five hits on Monday -- including two of the three home runs -- on pitches to the outer half.
The Rangers never brought in a lefty to pitch to Chisenhall, though that may have been for good reason.
Chisenhall entered this season a career .194 hitter against left-handed pitching. He's 13-for-25 against lefties in 2014.
Did You Know?
Chisenhall is currently hitting .385. He's 18 plate appearances shy of being eligible for the AL batting lead. He currently is hitting 50 points better than the AL's batting leader, Alex Rios.
Chisenhall entered this season a career .244 hitter.
For Chisenhall's batting average to dip to .244 in 2014, he'd have to go 0 for his next 93.