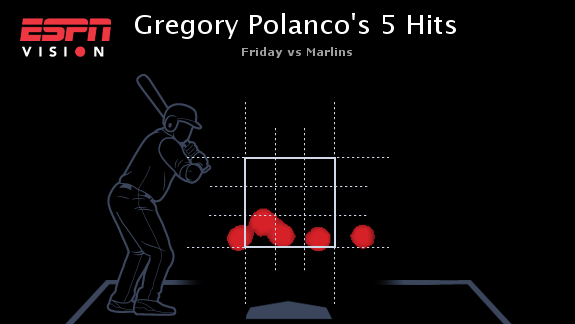 Gregory Polanco was able to take advantage of pitches down in the zone.Pittsburgh Pirates rookie outfielder Gregory Polanco had a pretty good week's worth of work in Friday's win over the Miami Marlins.
In his fourth career game, Polanco had five hits, including the game-winning home run in the 13th inning.
The Elias Sports Bureau noted that Polanco had five hits and a homer in a game quicker than any other player in baseball's modern era (since 1900).
Fewest Career Games
Before 1st Game with 5 Hits, HR
Modern Era (since 1900)
He became the first player in 81 years to have five hits in a game within the first four games of his career, since Cecil Travis of the 1933 Washington Senators (who had five hits in his debut). He's also the first Pirates player to have at least eight hits in the first four games of his career since Jack Merson in 1951.
How he hit
All five of Polanco's hits shared a common thread. They came on pitches in the lower-half of the strike zone or below.
Prior to Friday, Polanco was hitless in eight at-bats ending with a lower-half pitch.
Polanco had four two-strike hits, two against fastballs, two against breaking balls. He was 1 for 6 with three strikeouts in two-strike counts prior to Friday.
One hot outfield
Pirates outfielders are now hitting .471 (32-for-68) with five home runs and 18 RBIs in the last 5 games (all best in the majors).
Polanco's teammate, Andrew McCutchen now has six straight multi-hit games and is hitting .409 with six home runs in June.
Spooky
In the last 100 years, there have been four 13-inning games played on a Friday the 13th. The Pirates have been involved in (and won) three of them.