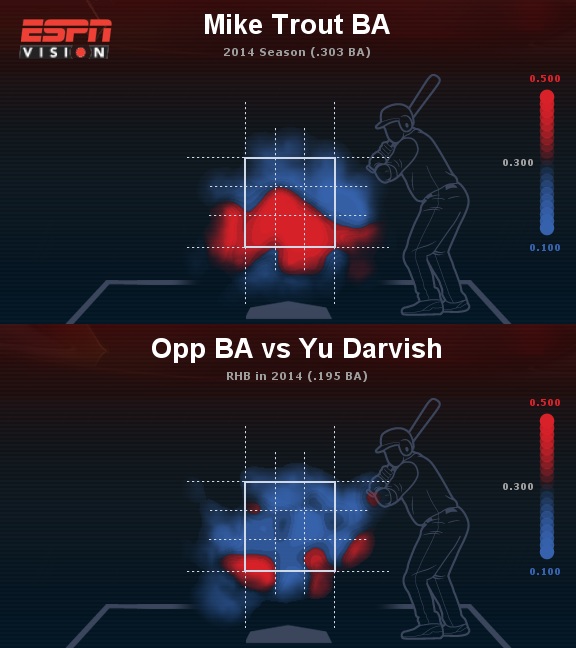 Both Mike Trout and Yu Darvish have excelled in 2014.The marquee matchup in the "Sunday Night Baseball" game between the Texas Rangers and Los Angeles Angels (8 ET, ESPN) will be the one between Rangers ace Yu Darvish and Angels star Mike Trout.
Let's examine it from a few different angles.
Trout's strength
Trout has four home runs in 31 at-bats against Darvish and is hitting .376 with eight home runs in 25 games since May 20.
Trout is the best hitter in baseball on pitches that are in the lower third of the strike zone. Over the last three seasons, he's hitting .359 with a .592 slugging percentage and 29 home runs on pitches in that area. The batting average and slugging percentage rank best in the majors, and his home run total ranks second.
Trout's 13 home runs against pitches in the lower third are the most in baseball this season. The next-closest entering Sunday is Adam Jones with nine.
All four of Trout's home runs against Darvish have come in the lower half of the zone, with two coming in the lower third.
Trout's weakness
The higher the pitch, the more trouble Trout has hitting it. Amazingly, he's 0-for-32 this season in at-bats that have ended with a pitch in the upper-third of the strike zone or higher (he's 8-for-73 when we expand that look to the upper half of the zone).
Trout does not often swing at upper-third pitches (only 29 percent of the time), but when he has this season, he's missed on 40 of 95 swings, a 42 percent rate that is nearly twice as often as the average major leaguer.
Darvish's strength
Darvish has excelled against right-handed hitters this season. He's held them to a .195 batting average, with 46 strikeouts, eight walks and only one home run allowed to the 142 he's faced. The one home run allowed is impressive considering he'd allowed a total of 19 to right-handers during the last two seasons.
Darvish's fastball, which averages nearly 93 mph and tops out at 96, has been his best pitch against righties. They're hitting .194 against it this season, though they miss the pitch much less often than they did last season (28 percent versus 16 percent).
Darvish's weakness
It's hard to find any weakness for Darvish against right-handed hitters, as he excels against them in just about every area and with every pitch type.
Trout has taken advantage when Darvish has come down in the strike zone. He's 9-for-25 against Darvish when at-bats end with pitches to that area. All other righties are hitting .186 against Darvish on those pitches.
The one other issue that Darvish may have is if Trout reaches base.
Darvish has allowed eight stolen bases in eight attempts this season. Trout is 9-for-9 on his steal attempts.
Darvish will do his best to keep him off the basepaths in Sunday night's contest.