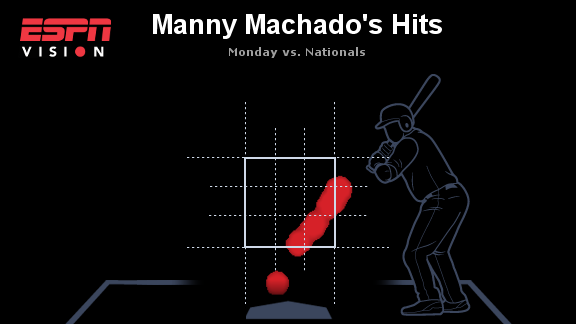 Manny Machado owned the inner half of the plate Monday night.Though Baltimore Orioles third baseman Manny Machado is perceived to be struggling this season, he is still hitting the ball as hard as he did in 2013.
#13 3B
Baltimore Orioles
2014 STATS
GM

57

HR8

RBI19

R27

OBP.308

AVG

.261
The hits are now starting to come for him.
The 22-year-old Machado had a career-high five hits in the Orioles' extra-innings win over the Washington Nationals on Monday night. Machado is the youngest Orioles player with five hits in a game since 21-year-old Cal Ripken Jr. had five against the Texas Rangers in 1982.
Machado had one of three home runs in the 11th inning for the Orioles, giving him four home runs in his last seven games. He totaled four home runs in his first 50 games this season.
His batting average dipped to .218 on June 11 after five straight hitless games (and an incident in which he threw a bat, resulting in a suspension). Since then, he is hitting .337 to raise his season batting average to its current .261.
Machado has hit the ball hard in 19 percent of his at-bats this season. (Hard-hit balls are determined by a video-review service, used by major league teams, that rates batted balls as hard-hit, medium-hit or soft-hit, based on specific criteria such as velocity and sweet-spot contact.) Last season, he finished with a 14 percent hard-hit rate.
But Machado's batting average on balls in play is .289, down from .322 last season, indicating that he may be the victim of some bad batted-ball luck, as his ground-ball rate has remained the same and his line-drive rate has risen.
How he has hit
On Monday, Machado saw 12 pitches on the inner half of the plate (or off the inside corner) and pounded four of his five hits against them, including the home run.
Machado's .283/.322/.496 slashline against pitches on the inner half in 2014 is a near match for his .281/.317/.481 slashline against those pitches a season ago.
The difference in his performance comes in his numbers against pitches on the outer half (or off the outside corner), and here might be where some of the bad luck comes into play.
Machado had 55 line drives against outer-half pitches last season and had 44 base hits. This season, he has had 29 line drives against pitches to that area but netted only 14 base hits.
Elias Sports Bureau: Did You Know?
This marked the first time in Orioles history that they hit three home runs in a single extra inning.
The loss by the Nationals was their ninth straight extra-inning home loss. The only franchise with a longer home extra-inning losing streak in the past 35 seasons is the Atlanta Braves, who lost 10 straight such games from 1989 to 1990.