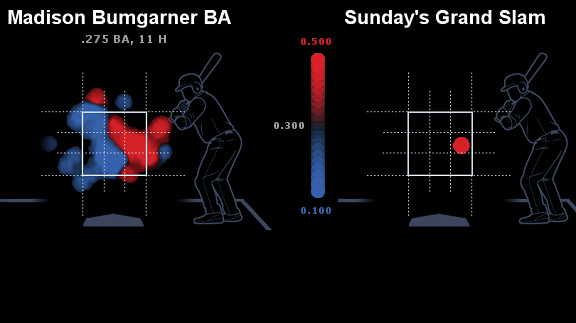 Madison Bumgarner is making opposing pitchers pay for pitching him inside.Perhaps San Francisco Giants pitcher Madison Bumgarner would make for a suitable last-second entrant into Monday's Home Run Derby.
Bumgarner became the second pitcher in major league history to hit two grand slams in a season, clubbing his second in the Giants' win over the Diamondbacks on Sunday.
The only other pitcher with two in a season is Tony Cloninger, who did so against the Giants, hitting both in one game on July 3, 1966.
The Elias Sports Bureau also noted that Bumgarner and Buster Posey are the first pitcher-catcher each to hit a grand slam in the same game. It marked the third time that the Giants hit two grand slams in a game since moving to San Francisco. The last instance was in 1998 (the hitters were Bill Mueller and Jeff Kent).
How he has hit: Madison Bumgarner
Bumgarner entered the season with two career home runs. He now has three in 40 at-bats this season. He has already matched his single-season high for hits in a season with 11.
Madison Bumgarner as a Hitter
Career
Bumgarner now has more grand slams in his career than Prince Fielder, who has 288 career home runs, but only one grand slam. The Elias Sports Bureau notes that's the most home runs of anyone with fewer than two grand slams.
Bumgarner (the hitter) has owned the inside part of the plate this season. He has seven hits, including Sunday's grand slam, and has made only six outs on pitches that were on the inner third of the plate, or off the inside corner.
From 2009 to 2013, he totaled seven hits and 70 outs against those pitches.
Bumgarner's 12 RBIs this season are the most for a Giants pitcher since Hall-of-Famer Juan Marichal had 15 in 1966.
How he's pitched
Bumgarner is in a little bit of a slump on the mound. He allowed four runs in 6⅓ innings on Sunday. Sunday's win did snap his three-game losing streak, but he's now 1-3 with a 7.03 ERA in his past four starts.
Perhaps over the All-Star break, he'll be able to regain the success he had with his slider. Opponents hit .224 against it prior to this four-game struggle. They have 21 hits and are batting .488 against it in these past four games, including five hits on Sunday.