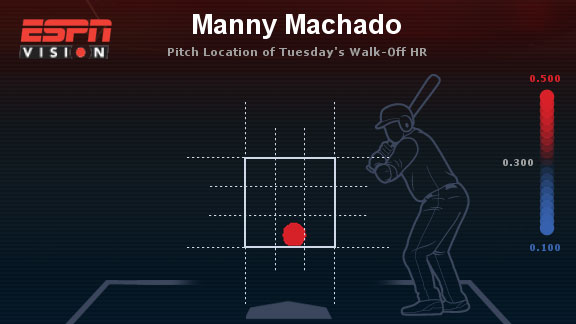 ESPN Stats & Information
Manny Machado's walk-off home run Tuesday came on a curveball down in the zone.
MachadoManny Machado's first career walk-off home run helped the Baltimore Orioles outlast the Los Angeles Angels in extra innings in Tuesday's 7-6 win.
Facing the Angels' Cory Rasmus, Machado faced three straight sliders – a ball and two called strikes.
Behind in the count, Machado sent the next pitch -- a curveball down in the zone -- 397 feet to left field for the game-winning run and his second career walk-off hit.
Machado's batted only slightly better than league average on pitches down in the zone this season (.252; MLB average entering Tuesday, .242), but seven of his 11 home runs this season have come on pitches in that location.
That continued a recent trend for Machado as this was his third home run off an off-speed pitch this month. He had just one before July.
Against off-speed pitches, Machado has batted .333 with a 1.074 OPS this month. Entering July, Machado batted just .212 with a .500 OPS against off-speed pitches.
Before & After 5-Game Suspension
Manny Machado This Season
Overall, Machado has returned to form since returning from a five-game suspension on July 5. Since then he's batting .373 with four home runs, including Tuesday's walk-off winner. In 54 games prior to the suspension Machado was hitting just .239.
Machado joined Matt Wieters (May 1) and Chris Davis (June 23) as Orioles with walk-off home runs this season.
The walk-off win was the Orioles' eighth of the season; only the Pittsburgh Pirates have more (nine).