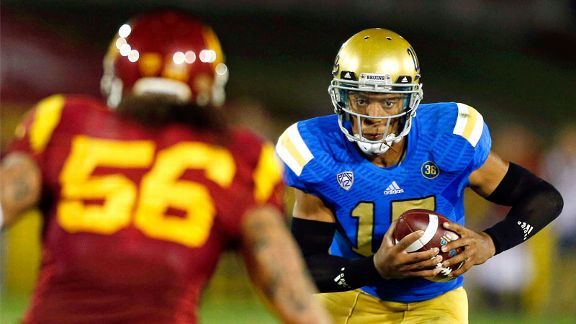 Charles Baus/CSM
Brett Hundley causes problems for opponents with his arm and his legs.The 2014 college football season has the potential to showcase one of the most talented groups of quarterbacks in recent memory. Jameis Winston, Marcus Mariota, Brett Hundley and Bryce Petty are all being talked about as potential first-round NFL Draft picks, while Braxton Miller and Everett Golson have the chance to solidify their place in their respective school's storied histories.
In preparation for the 2014 season, and in conjunction with interviews conducted by ESPN CFB analyst Kirk Herbstreit, ESPN Stats & Info will take a deeper look at the top QBs entering the fall. Today, we take a look at Hundley.
A Look Back at 2013
Hundley led UCLA to its first 10-win season since 2005 behind efficiency on the ground and in the air. Hundley was one of seven FBS quarterbacks who led their respective teams in passing and rushing last season as he combined for 3,819 total yards.
Hundley improved his passing efficiency by increasing his completion percentage, yards per attempt and third-down conversion percentage. His Total QBR rank jumped from 40th to 11th from his freshman to sophomore seasons.
Hundley also improved his rushing efficiency, particularly by cutting down on sacks. Hundley was sacked 35 times in 2013, which put him among the top five most-sacked quarterbacks. This was better than his freshman season in 2012, when he was sacked 52 times, 13 more than any other player in the nation.
Hundley has shown an ability to make plays with his legs, which may not be clear when looking at his sack numbers. When protection broke down, Hundley gained the most scramble yards over the last two seasons of all returning Power Five Conference quarterbacks (879).
All of Hundley's improvements culminated at the Sun Bowl, when he accounted for four touchdowns and was named the Most Valuable Player in the Bruins' blowout victory over Virginia Tech. Hundley rushed for 161 yards and two scores on 10 carries against a Hokies defense that allowed the sixth-fewest yards per attempt in the nation (3.0) heading into the Sun Bowl.
A Look Ahead to 2014
The Bruins' offense returns four starters along the offensive line. This experience and stability should improve protection for Hundley and lead to fewer sacks this season. UCLA has allowed the fourth-most sacks in the nation (88) since the start of the 2012 season.
Tailback Jordon James returns after an injury-shortened season in 2013, which should take pressure off Hundley to be the primary ball carrier. Hundley was forced to carry the load rushing after an injury to James. Hundley finished last season leading the team in carries (160) and yards (748).
Brett Hundley Throws of 15+ Yards
2013 Season
Devin Fuller will look to fill the void left by Shaquelle Evans, Hundley's favorite target from a year ago. Evans led the team in targets, receiving yards, touchdowns, and first downs. Fuller is the most accomplished returner among Hundley's projected targets.
One specific area in the passing game in which Hundley can improve is downfield passing. This becomes more clear when we look at how successful he was in the short passing game. On throws traveling less than 15 yards through the air, Hundley led the Pac-12 in completion percentage (73.0), yards per attempt (7.6) and 20-yard plays (24).
If everything comes together for Hundley and UCLA they could contend for the Pac-12 Championship and possibly a spot in the College Football Playoff.