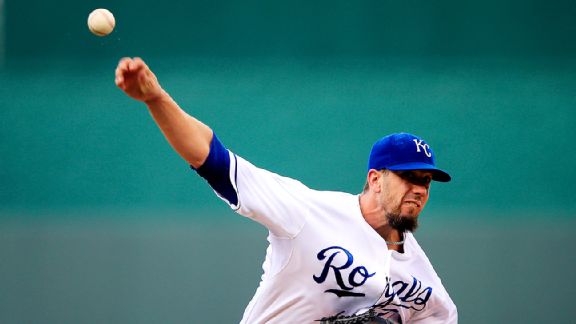 Jamie Squire/Getty Images
James Shields threw a four-hit shutout to help the Royals win their sixth straight.The Kansas City Royals continue to roll, pushing their win streak to six games thanks to a four-hit shutout from James Shields.
Most Shutouts Since 2008
The shutout from Shields was the ninth of his career. That's tied for third in MLB since 2008.
It's the fifth time this season Shields allowed four hits or fewer – and he's 5-0 in those starts.
And while he didn't yield many baserunners to begin with, he was particularly sharp when runners were on base Saturday – the San Francisco Giants went 0-for-8 with runners on base against Shields.
In five starts since the All-Star Break, Shields is now 2-1 with a 1.77 ERA. He's held opposing batters to a .217 average and has a 0.98 WHIP.
It was just another strong effort from the Royals pitching staff overall. They've allowed three or fewer runs in each of their past six games, a season-high streak.
While the Royals are currently the second AL Wild Card, they are back in the thick of things in the division race.
The Royals are 1 ½ games back of the Detroit Tigers in the AL Central, the closest they've been to the Tigers since June 21.
In just a month's time, Kansas City watched its division deficit grow as large as eight games on July 21. But the Royals have rebounded with a 14-3 run in their past 17 games, renewing hope in reaching their first postseason since 1985.