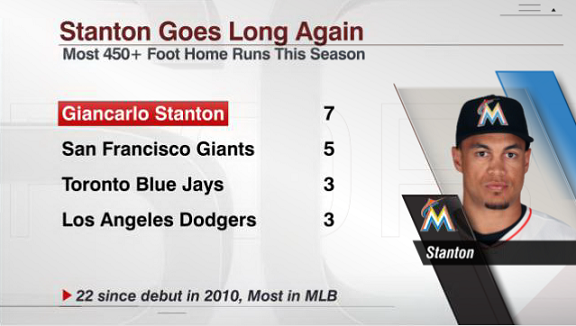 ESPN Stats & Information
Giancarlo Stanton came very close to hitting two home runs on Sunday, only to be denied by a fantastic catch by Reds rightfielder Jay Bruce.
StantonOn Monday night, Stanton would not be denied a multi-homer game.
Stanton's two home runs powered the Miami Marlins to a 6-5 win over the St. Louis Cardinals. The second of those home runs was a wow-inducer: a shot calculated at 470 feet.
Here's a quick run-through of Stanton's accolades.
His 148 home runs are tied with Hanley Ramirez for second-most in Marlins history, trailing only the 154 by Dan Uggla. He needs two home runs to become the 12th player to hit 150 homers before turning 25.
Stanton has three seasons of 30 or more home runs, tied with Miguel Cabrera for second-most in Marlins history, trailing only Uggla's four.
Stanton passed Ramirez to set the record for most multi-homer games in Marlins history with 13. Stanton has the same number of multi-homer games as Mickey Mantle had before he turned 25.
Most 450-Foot HR This Season
The record for that stat is one thing Stanton won't reach: 19 by Hall-of-Famer Eddie Mathews.
Stanton's second home run was his seventh of at least 450 feet this season. No other player has more than two such home runs.
In fact, Stanton has more 450-foot home runs than any other team this season.
Stanton has eight home runs in his last 12 games dating back to July 30. That's the most in the majors in that span.
Stanton didn't just star on the offensive end on Monday, he did so on the defensive side as well. He sprinted back 81 feet to rob Kolten Wong of an extra-base hit in the fifth inning.
Stanton entered the day ranked tied for second among right fielders with eight defensive runs saved this season.
Stanton's success has coincided with a 14-8 run by the Marlins that has kept them on the fringes of the playoff race.
The Marlins have needed to make the most of Stanton's home runs. They're hitting only .231 as a team over these 22 games.
After Stanton, the most valuable members of the team during this spurt have been their middle relievers, who combined for three scoreless innings on Monday night. The bullpen did have one blemish -- Steve Cishek allowed two runs in a tense ninth inning en route to his 30th save -- but overall has been really good of late.
Marlins relievers have a 2.15 ERA in the team's last 22 games, with 74 strikeouts and only 17 walks and one home run allowed in 62 1/3 innings.
They're one of the reasons (along with Stanton) that the team has a major league best 29-17 record in one-run games.