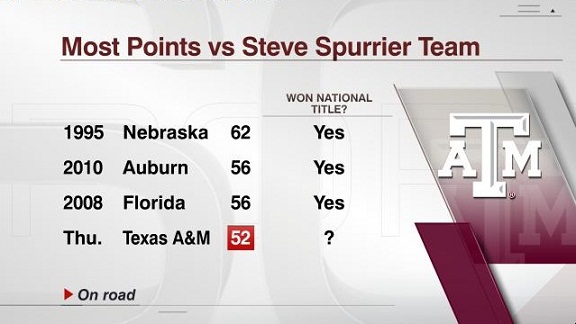 The precedent has been set for Texas A&M to do big things in 2014.Kenny Hill made Texas A&M fans turn the page from Johnny Manziel with a debut to remember on Thursday night.
Hill completed 44 passes for 511 yards, both school records. Texas A&M gained 680 yards, the most by any team against South Carolina in school history as it ended the Gamecocks' 18-game home winning streak. The 52 points A&M scored are also the most ever scored by a road team against a Steve Spurrier-coached team and fourth-most overall.
We take you inside the numbers on this record-setting night in Columbia.
Don't blitz
South Carolina attempted to blitz Hill on over 40 percent of his dropbacks on Thursday night, but Hill was not rattled by the pressure. He completed 72 percent of his passes and threw two touchdowns when facing added pressure compared to 74 percent and one touchdown against no blitz.
Johnny who?
Hill's debut far surpassed Manziel's debut against Florida in 2012. Manziel passed for 173 yards and no touchdowns in a 20-17 loss. Manziel did rush for 60 yards and a touchdown in that game.
Most Passing Yards in a Single Game
Texas A&M History
Catch and run
The Aggies gained 278 of their 511 passing yards after the catch Thursday, including 106 by Malcome Kennedy. Last season, Texas A&M averaged an SEC-high 179.8 yards after the catch per game.
Curtains for South Carolina?
Despite tonight's big loss for the Gamecocks, their season is far from over. Four teams have reached the SEC championship game after losing their season opener and six teams have done so after losing their SEC opener.
The most recent team to do both was Georgia in 2011, which reached the SEC title game after losing its opener to Boise State and its SEC opener to South Carolina.