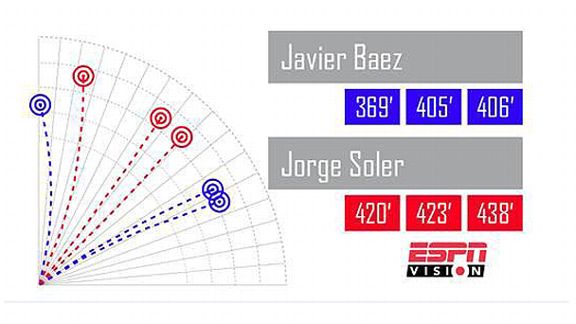 ESPN Stats & Info
Two Cubs rookies, Javier Baez and Jorge Soler, made an immediate impact in August.Stats & Info tracks every home run hit throughout the season in terms of distance, height, speed, etc. Here are our best nuggets from the home runs in August.
Longest Home Run of the Month: Giancarlo Stanton
Giancarlo Stanton hit a 470-foot home run on August 11th off Shelby Miller, the longest home run hit during the month. The 470-foot shot was the second longest home run ever hit at Marlins Park, bested only by Stanton's own 484-footer hit on April 4th earlier this year. Stanton has owned Marlins Park in its short 3-year history, accounting for five of its six longest homers.
Longest Home Runs
Marlins Park History
Masher of the Month: Chris Carter
The Houston Astros' Chris Carter dominated the month of August with 12 home runs, four more than any other player. Despite hitting plenty of homers, Carter has not been hitting them very far. His 12 homers in August had an average true distance of just 389.1 feet, below the 395.2 MLB average this season. He benefited from the small confines of Minute Maid Park in August, where his eight homers averaged just 381.1 feet.
Breakout Performance of the Month: Cubs Prospects
Cubs prospect Javier Báez burst on to the major league scene earlier this month, smashing three home runs in his first three career ballgames. Báez showed power to all fields as he became just the second player since 1900 to hit three home runs in his first three major league games.
Cubs teammate Jorge Soler duplicated Báez's feat just 22 days later when he smashed his second and third career homers in his third major league game on August 29th against the Cardinals. Soler's three homers averaged 427 feet, and all traveled at least 420 feet.
Noteworthy Homer of the Month: Mike Napoli
On August 26th, Mike Napoli hit a home run at Rogers Centre that was calculated at 451 feet, his longest of the season. It was Napoli's fourth career home run of at least 450 feet at the Rogers Centre (all in the last two seasons) and the most by any visiting player since ESPN began tracking home runs in 2006. In fact, four of Napoli's six longest career home runs have been hit in Toronto.
Cheap shot of the Month: David Ortiz
On August 16th, David Ortiz hit a high fly ball 318 feet down the right field line at Fenway Park that just barely wrapped around Pesky's Pole for a home run. It was the second of two home runs Ortiz would hit that evening, but what made that second one interesting was its distance, or lack thereof. The 318 footer marked the shortest home run of the 2014 season, and the second-shortest Ortiz has hit since ESPN began tracking homers in 2006.