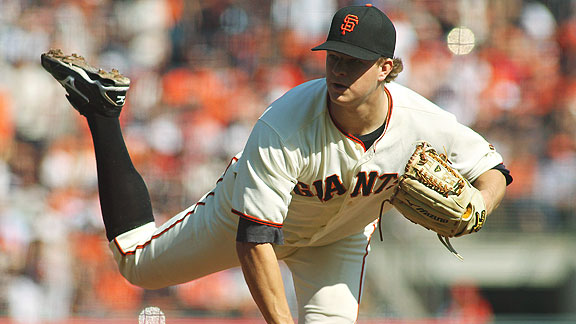 Cary Edmondson/US Presswire
Matt Cain's gem has the San Francisco Giants up 2-1 in the NLCS.
The San Francisco Giants' Matt Cain became the fifth National League starter to pitch at least seven innings, allow no runs, two hits or fewer and win a league championship series game, and the first since Josh Beckett in 2003 against the Chicago Cubs.
There have now been four starts this postseason (Roy Halladay, Tim Lincecum, Cliff Lee, Cain) of at least seven innings, allowing two hits or fewer and no runs. That's the most such starts in a single postseason, surpassing the previous mark of three in both 1999 and 2000.
The Phillies were 0-for-9 against pitches by Cain that were not fastballs. Combined with the Atlanta Braves' performance from last week, hitters are 1-15 (.067 batting average) against Cain's "soft stuff" this postseason.
Cain retired the leadoff hitter in all seven innings he pitched. It was also the second straight postseason start that he did not allow an extra-base hit.
The Giants are the fourth team in history to get a pair of starts of seven innings or more, allowing no runs and two hits or fewer in the same postseason.
This marks the first time the Giants have had two shutouts in the same postseason since the 1917 World Series.
Trailing Best-of-7 Series 2-1
Phillies All Time
Cody Ross now has seven RBI in seven postseason games, matching the total he had in 33 games (73 at-bats) with the Giants during the regular season. Ross also has at least one RBI in each game in this series. The only player in Giants history with an RBI in five straight postseason games is Barry Bonds in 2002.
This is the sixth time the Philadelphia Phillies have trailed a best-of-7 series two games to one. Only once have the Phillies come back to win that series.