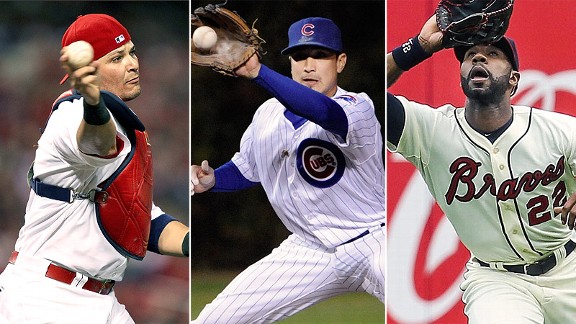 Getty Images
Yadier Molina, Darwin Barney and Jason Heyward were statistically-dominant on the defensive side. Here's a look at the notable storylines involving the NL's Gold Glove victors.
Molina takes the 5th
St. Louis Cardinals catcher Yadier Molina won his fifth straight Gold Glove Award, the longest current streak among winners in the majors.
Most Gold Gloves by Catcher
Molina led major-league catchers in caught stealing percentage, throwing out 46 percent of the baserunners who tried to steal against him. Baseball Info Solutions also charted him with 554 potential wild-pitch blocks based on its video review, the most in the major leagues.
Molina also dominated in the advanced defensive metrics. His 16 Defensive Runs Saved were more than double the NL catcher with the next-most, Ryan Hanigan of the Cincinnati Reds.
Molina's total is one more than his manager, Mike Matheny, won in his major-league catching career.
Darwin's evolution into a winner
Chicago Cubs second baseman Darwin Barney had about as good a defensive season as any player in baseball, and was rewarded with his first career Gold Glove.
Most Defensive Runs Saved
NL Player at Any Position
Barney had the most Defensive Runs Saved of any player at any position with 28 and also led NL second basemen in fielding percentage. He tied Placido Polanco's major-league record for longest errorless streak by a second baseman- 141 games.
Barney broke the NL record, which previously stood at 123 games. The man whose record he broke was the last Cubs second baseman to win a Gold Glove- Hall-of-Famer Ryne Sandberg in 1991.
Heyward the lone Brave to win
The Braves outfield rated best in the majors by advanced defensive metrics, and all three of their regular outfielders were finalists for a Gold Glove, but rightfielder Jason Heyward was the only winner.
Heyward led National League rightfielders in Defensive Runs Saved with 20 and tied for the lead among rightfielders in assists with 11.
He is the first Braves player to win a Gold Glove Award since Andruw Jones and Jeff Francoeur each won in the outfield in 2007.
Other winners …
Notes and nuggets on the other Gold Glove Award winners:
Did You Know?
A change of leagues didn't hinder Mark Buehrle defensively, as the Florida Marlins pitcher won his fourth straight Gold Glove.
Buehrle led NL pitchers with 12 Defensive Runs Saved and became the first Marlins pitcher to win a Gold Glove, the first Marlins player to do so since Luis Castillo and Mike Lowell won in 2005.
Washington Nationals first baseman Adam LaRoche won his first Gold Glove and became the second Nationals player to win a Gold Glove since the team moved to Washington. The other was third baseman Ryan Zimmerman in 2009.
Philadelphia Phillies shortstop Jimmy Rollins ended Troy Tulowitzki's two-year run and won his fourth Gold Glove, his first since 2009.
Gold Glove Awards have become a regular thing for the Phillies, who have had at least one winner every year since 2007. Though Rollins did not fare well via advanced metrics, he led the NL with a .978 fielding percentage.
San Diego Padres third baseman Chase Headley also did not rank among the advanced metrics leaders at his position, but he did lead major-league third basemen in assists by a wide margin with 314.
Headley is the first Padres player to win a Gold Glove since Adrian Gonzalez in 2009 and their first third baseman to win since Ken Caminiti in 1997.
Colorado Rockies leftfielder Carlos Gonzalez won a Gold Glove for the second time in three seasons. He became the second Rockies outfielder to win multiple Gold Gloves, joining Larry Walker.
Pittsburgh Pirates outfielder Andrew McCutchen won his first career Gold Glove Award. He became the third Pirates player to win one in the last twenty seasons, joining shortstop Jay Bell in 1993 and outfielder Nate McLouth in 2008.