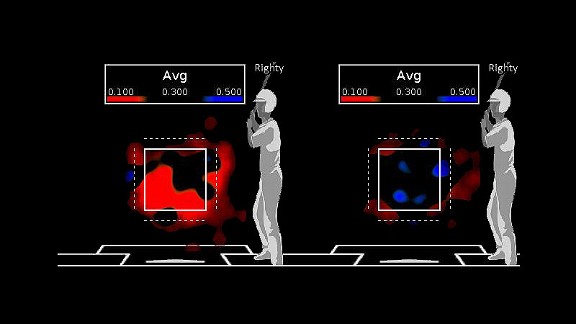 Left: Where Trevor Cahill struggled/succeeeded with his sinker (2010)
Right: Where Cahill struggled/succeeded (2011)
Click here to create your own Cahill heat mapsEach Sunday, ESPN Stats & Information reviews significant moves from the past week.
Diamondbacks trade with Athletics for P Trevor Cahill
Cahill is coming off a disappointing season, in which his ERA rose more than a run from 2010, even though his strikeout-to-walk ratio and home run rate were almost identical in both seasons.
Trevor Cahill
Last 2 Seasons
The difference in Cahill's performance over the last two seasons was a BABIP (Batting Average on Balls in Play) that rose from an MLB-low .236 in 2010 to .302 in 2011.
Was his 4.16 ERA last year a product of bad luck?
Cahill is a ground-ball specialist, ranking first among AL starters in ground ball rate over the last two seasons (56.4 percent).
Last season, he struggled to locate his signature sinker down in the zone, especially against righties.
Trevor Cahill
Sinker vs RHB
Only one-third of his sinkers thrown to right-handed hitters in 2011 were located in the lower-third of the strike zone or below the knees, compared to 43 percent in 2010.
The effectiveness of the pitch was much worse last season compared to the previous year, as noted in the chart on the right.
Cahill continued to challenge hitters with his sinker in 2011 despite its ineffectiveness, throwing it more than 50 percent of the time compared to less than 40 percent in 2010.
Cahill recorded double-digit ground outs in just two of his 14 starts in the second half, after doing so in half of his 20 starts before the break.
The heat map at the top of this piece shows the difference in the effectiveness of Cahill's sinker in each of the last two seasons.
--Katie Sharp
Angels sign C.J. Wilson
Wilson pitched like an ace last year, with the fourth-highest WAR and seventh-best ERA among AL pitchers.
An underrated aspect of Buehrle's ability on the mound is how dominant he has been at controlling the running game.
Since Buehrle began his career in 2000, only Chris Carpenter has held baserunners to a lower stolen base percentage than Buehrle.
Of the 68 times runners have been caught stealing with Buehrle on the mound, 47 have been pickoff caught stealings, meaning the newest Marlins pitcher has caught 26 more runners than his own catchers have.
-- Lee Singer
There is a thought that in 2012 Wilson could post even better numbers than he did in 2011, when his ERA ranked seventh-best.
He'll be moving from the hitter-friendly Rangers Ballpark to Angel Stadium, which last year reduced run-scoring by an AL-high 16 percent according to ESPN.com's Park Factors.
However, Wilson must now face the Texas Rangers lineup likely four or five times in 2012. The Rangers ranked among the AL's top three in batting average, slugging percentage, runs and OPS.
Last year, just four of his 34 starts came against the Yankees, Boston Red Sox, and Detroit Tigers, which ranked first, second and fourth, respectively in OPS in the league.
Via Baseball Prospectus, the opposing hitters that Wilson faced had a combined .728 OPS, lowest among pitchers who threw at least 150 innings last season.
Wilson could be replacing his six starts against the Angels with six against the Rangers. He had a solid 2.65 ERA against his current team last season, but will be challenged to repeat that against Texas in 2012.
Last season 17 pitchers made at least three starts against the Rangers. Only four of them posted an ERA below four, led by Cahill's 3.10 in six starts.
--Katie Sharp
Brewers sign SS Alex Gonzalez
The Milwaukee Brewers signed Gonzalez to replace Yuniesky Betancourt at shortstop.
It's an even move offensively; Gonzalez has a career on-base percentage of .291 and slugging percentage of .399. Betancourt's career numbers are .292 and .391, respectively.
IN THEIR DEFENSE
Most Defensive Runs Saved
Shortstops, Past 2 Seasons
Fewest Def. Runs Saved
Shortstops, Past 2 Seasons
But over the past two seasons -- according to Baseball Info Solutions' stat Defensive Runs Saved -- Gonzalez has saved his teams 31 runs. Betancourt has cost his team 27.
If we use the sabermetric value of 10 runs equaling a win, that means Gonzalez has been worth nearly six more wins than Betancourt over the past two seasons with his glove alone.
That's a big upgrade for a team that had its share of defensive issues during the postseason after finishing 11th in the majors in Defensive Runs Saved in 2011.
-- John Fisher