Who have been baseball's best hitters the first few days of the season? A couple of players staked their claims in wins on Thursday.
Bonifacio again off to a good start
You would be hard-pressed to find someone who had a better opening week than the newest Cubs infielder, Emilio Bonifacio.
11 Hits in First 3 Games
Since 1900
Bonifacio is 11-for-16 with four stolen bases through the first three games of the season. In March and April the previous two seasons, he hit a combined .216; in the opening month of 2011, he hit .318. He started the 2009 season 14-for-24 (.583) in his first five games, but finished the season hitting .252.
The heat map below shows how Bonifacio has been effective from both sides of the plate with what is a very small sample. He didn't crack a .250 batting average from either side last season.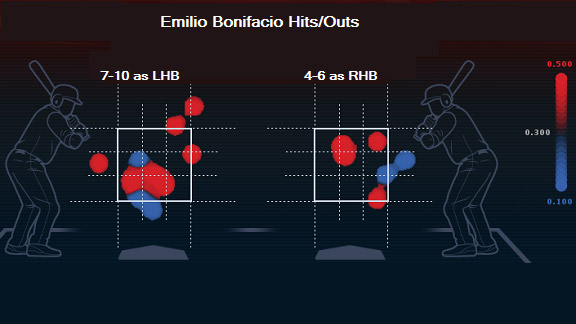 Pagan, Belt take Giants step forward
Angel Pagan has been with the Giants since the start of the 2012 season, and the team has been far better when he plays.
In games that Pagan has appeared in, the Giants are 129-99 (.566). In the games Pagan has not played, they are 44-56 (.440).
Coincidence? Perhaps. And we're not going to make the case that he belongs on the list of the most indispensable players in baseball (we'll leave that to Dan Szymborski, who is writing on that topic in the near future).
But at the very least, Pagan is off to a good start in 2014.
Pagan was a notch behind Brandon Belt with regards to his value in the Giants' winning three of four from the Arizona Diamondbacks in Arizona. But Pagan had multiple hits and at least one RBI in all three wins.
On Thursday, he hit the go-ahead home run in the eighth inning against Diamondbacks reliever Will Harris. The homer was noteworthy because it came on the first pitch of the at-bat. Pagan hadn't hit a first-pitch homer in his time with the Giants before Thursday.
Also of Note
One of the things that Pagan brings to a lineup is a low rate of missed swings. In the past, Pagan's ability to put his bat on the ball has been overshadowed by a teammate who rates a bit better at that than he does -- Marco Scutaro.
Pagan has missed on only three of his 29 swings so far this season. The average major league hitter misses about twice as often as Pagan does.
Pagan's six RBIs pace the Giants so far, one more than teammate Brandon Belt, who hit his third home run of the season on Thursday.
Belt thrived away from AT&T Park last season, particularly in the second half, when he hit .356 with four home runs in 28 road games. He's already just one homer shy of that total.
Belt's overall 2013 slash line of .289 AVG/.360 OBP/.481 SLG nearly mirrors Paul Goldschmidt's 2012 (.286/.359/.490). Goldschmidt (who has a 25-game hitting streak) was an MVP candidate in 2013. Belt has been one for the opening week of 2014.