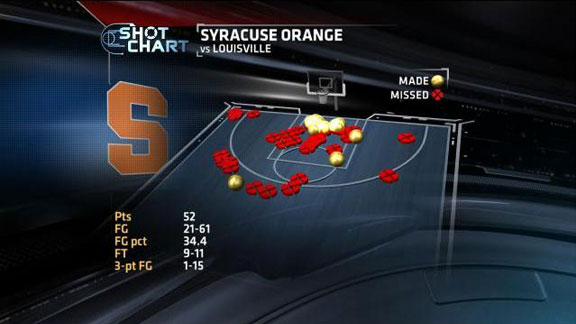 ESPN Stats & Information
Syracuse picked up a one-point victory against Louisville on Monday night despite making just two shots from outside the paint.

Player of the Night - Jeff Withey
Withey fell one block shy of a triple-double as Kansas topped Kansas State 59-53 in Manhattan. He finished with 18 points, 11 rebounds and nine blocks, becoming just the fifth Big 12 player to reach all three of those totals in a game. Over the past three games, Withey has looked like one of the top players in the nation, averaging 20 points, 12 rebounds and six blocks.

Freshman of the Night - Quincy Miller
Averaging 6 points over the first three games of February, it looked like Miller had hit the freshman wall. But following up on a 20-point performance against Missouri, Miller had 16 points and matched a career-high six assists in Baylor's 79-64 win over Iowa State. At 12.4 points per game, he's the Big 12's second leading freshman scorer.

Bench Star - Cor-J Cox
Just 1-11 entering January, it was nearly impossible to envision Mississippi Valley State as a tournament team. Since then, the Delta Devils have gone 13-0 in the SWAC, including last night's 58-53 win at Southern. Cox was again a difference maker off the bench with 11 points and nine rebounds. Among those with one start or fewer, Cox ranks second in the nation in rebounding and tied for fifth in scoring.

Ugly Stat Line of the Night (Player) - Angel Rodriguez
Rodriquez went 0-for-8 from the field with seven turnovers in Kansas State's loss. That's tied for the third most turnovers without a point by a Division I player this season.

Ugly Stat Line of the Night (Team) - Syracuse Orange
Syracuse beat Louisville 52-51, but the Orange did it without any semblance of outside shooting. Just 1-for-15 from beyond the arc, it was the second worst 3-point shooting game by Syracuse over the past 15 seasons. Including that 3-pointer, Syracuse made two shots from outside the paint all night. In fact, 18 of the Orange's 21 field goals were either layups or dunks.