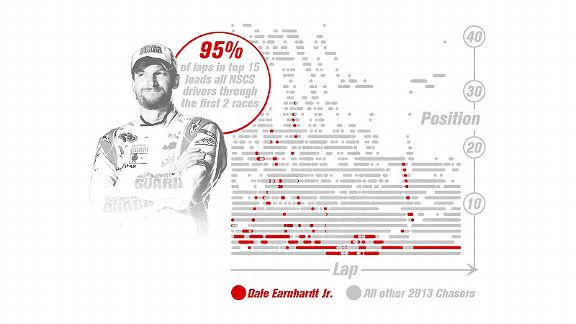 Dale Earnhardt Jr. has spent 95 percent of his laps in the top 15 of the field this season.
Projected Finish
NSCS at Las Vegas
For the first time, we're publishing the results of our NASCAR race projection system.
This system takes into account drivers' past performance at the current track, pre-race on-track activity and probability of finishing the race, among other factors.
The projections for Sunday's NSCS Race at Las Vegas are in the chart on the right.
Jimmie Johnson looking to return to victory lane
Signs point to Jimmie Johnson as the driver to beat this week, as he leads all Cup drivers at Las Vegas in average finish (ninth), average running position (10th) and share of laps led (17 percent) since 2005.
Johnson has also posted the fastest average green flag speed (170.622 mph) and speed in traffic (169.603 mph) at the track over that span.
His worst position in this race last year was only 11th -- Sunday's polesitter Joey Logano, who now holds the track qualifying record, never got higher than 11th in that race.
Can Dale Earnhardt Jr. keep it going?
Dale Earnhardt Jr. comes to Las Vegas on one of the hottest starts to a season in Sprint Cup history.
Through the first two races he's run 95 percent of his laps in the top 15 -- destroying the Cup average of 37 percent.
However, he also had back-to-back top-fives to begin last season before finishing seventh at Vegas.
His consistent improvement throughout testing and practices this week (19th-19th-12th-ninth) leans toward the #88 potentially landing in the top five.
Austin Dillon poised for strong showing
Rookie of the Year candidate Austin Dillon is projected to collect his second career top 10 in 16 NSCS starts.
Dillon's only Sprint Cup experience at Vegas was last year's 21st-place finish, but solid on-track activity this week has bumped him up in the projections.
Dillon finished second, sixth, 16th and second and rolls off fourth after a strong effort in the new knockout-round qualifying format.