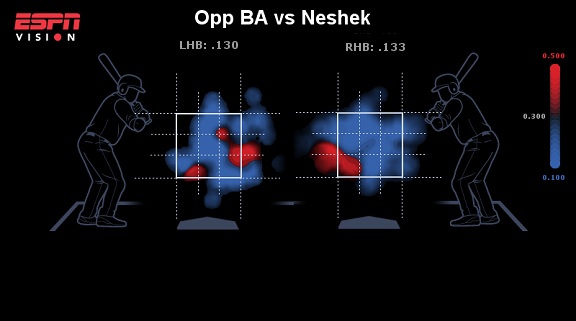 Clayton Kershaw might not have a scoreless streak going any more, but he figures to be tough to beat when the Los Angeles Dodgers visit the St. Louis Cardinals on Sunday Night Baseball.
Here are some of the stories our broadcast crew will be focusing on tonight.
The greatness of Kershaw
Since the start of June, Kershaw is 8–0 with 80 strikeouts and an 0.74 ERA in eight starts.
#22 SP
Los Angeles Dodgers
2014 STATS
The Elias Sports Bureau notes that Kershaw is the only pitcher in major league history to win eight consecutive starts within a single season with at least 80 strikeouts and an ERA under 1.00 over that span.
Kershaw pitched against the Cardinals on June 29 and struck out 13 in seven scoreless innings. He had a particularly wicked slider that night and whiffed eight hitters with it.
That pitch ranks among the best in the sport and nets misses on 54 percent of swings. Opponents have made 90 outs while getting 13 hits and two walks against that pitch this season.
Over the four-start stretch from June 18 to July 4, Kershaw got 38 outs with the pitch and yielded only one hit and one walk with it.
It was a slider on which Kershaw's scoreless streak ended, however, with Chase Headley hitting a home run against a rare hanger in his latest start.
Carlos Martinez Stat to Watch
St. Louis Cardinals starter Carlos Martinez has the highest average fastball velocity of any pitcher to throw at least 50 innings this season (96.8 mph). He's a smidge ahead of Kansas City Royals starter Yordano Ventura (96.7).
#44 RP
St. Louis Cardinals
2014 STATS
An optimal maneuver for the Dodgers would be to start Carl Crawford somewhere in their outfield. Crawford is 11-for-18 with a double and a home run against pitches of 95 mph or faster this season.
Dee Gordon has also fared well against those pitches. He's 10-for-31 with eight walks in at-bats ending with pitches that speed. Seven of the 10 hits have come from either hitting the ball up the middle or hitting it to the left side.
Some notable Dodgers have been beaten by the heat a bit this season. Matt Kemp (.182), Yasiel Puig (.167) and Adrian Gonzalez (.154) all have hit sub-.200 against pitches of that speed in 2014.
The Cardinals secret weapon
Pat Neshek showed that which made him an All-Star in Saturday's win, as he struck out Matt Kemp and Hanley Ramirez to preserve a two-run lead with the tying run at the plate in the eighth inning.
Neshek has arguably been tougher to hit than Kershaw this season (take a look at Neshek's heat map below). He's faced 145 batters and held them to a .132/.179/.162 slash line, with only two extra-base hits. Lefties and righties have nearly identical numbers against him, with lefties hitting .130 and righties hitting .133.
Neshek lost the All-Star Game, but that appears to have been a minor blip. Opponents have only one hit in 30 at-bats against him in his past 16 appearances.