June was another notable month when it came to home run hitting, particularly to a couple of players who couldn't stop hitting long home runs.
HR Hitter of the Month: Mike Trout
Mike Trout hit seven home runs in June, including a career-long 489-foot blast off off Jason Vargas at Kauffmann Stadium on June 27.
The other three longest home runs hit this year were all in April - Giancarlo Stanton hit a 484-foot shot on April 4 at Marlins Park; David Ortiz recorded a 482-foot home run on April 22 at Fenway Park; and Justin Upton hit a 477-foot round tripper on April 10 at Turner Field.
Trout's 489-foot home run is the longest home run by an American League player since the beginning of ESPN HR Tracker in 2006, and the sixth-longest overall.
Trout's average career home run distance is 415.2 feet. He trails only Justin Upton (417.5 feet) in average home run distance since 2006 (min. 50 HRs).
His two longest career home runs have come in Kansas City – 489 feet on June 27, 2014 and 463 feet on May 23, 2013.
The Home Run Tracker team compared Trout's home run to Bo Jackson's first career home run (hit on Sept. 15, 1986), which was calculated at 495 feet. Both of which were hit at Kauffman Stadium.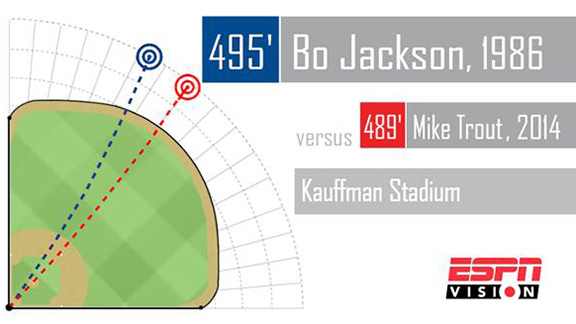 Trevor Ebaugh
Shortest HR of the Month: Chris Davis
On June 17, Chris Davis hit a 319-foot home run off the base of the left field foul pole in Tropicana Field, the shortest home run of the season (not including inside-the-park HRs). Of the nine home runs hit 320 feet or shorter since 2009, Davis' was the only one that was not hit at Fenway Park.
Other Notable Performances: Hanley Ramirez, George Springer and Jose Abreu
Hanley Ramirez
On June 8, Hanley Ramirez drove a Jorge De La Rosa fastball 472 feet at Coors Field. Not only was it a career long for Ramirez, it was the longest home run by a Dodger since the beginning of Home Run Tracker in 2006.
Prior to this home run, the longest by a Dodger was 461 feet by Manny Ramirez on April 22, 2009.
George Springer
On June 24, George Springer hit a 465-foot home run off Aaron Harang at Minute Maid Park, tied for the second longest home run hit in Houston since 2006. Lance Berkman had the two others (473 feet on June 8, 2008 and 465 feet on July 26, 2006).
Springer also led the month of June in average HR Distance (minimum 5 home runs).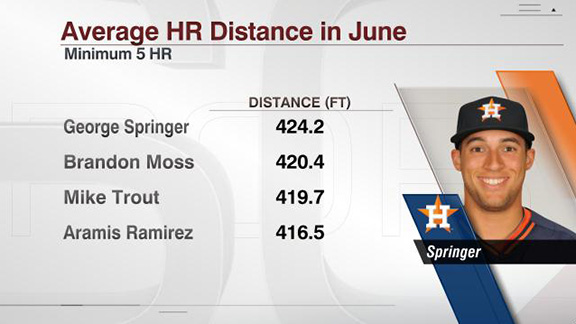 Trevor Ebaugh
Jose Abreu
Jose Abreu led the major leagues with 10 home runs in the month of June and set a record by reaching 25 career home runs faster than anyone in MLB history (67 games). That broke the mark of 72 games set by the Tigers' Rudy York.