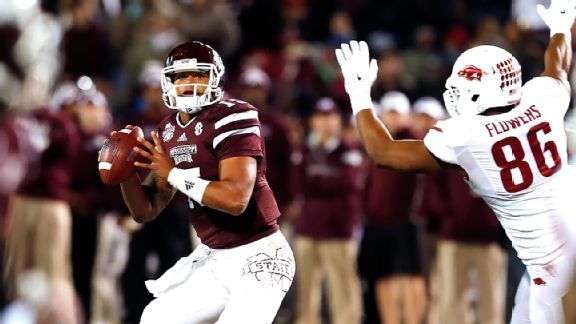 Butch Dill/Getty Images
Dak Prescott has eluded defenses all season.There will be a lot to gain when Mississippi State travels to Tuscaloosa. If Alabama wins, it can win the SEC West without depending on a loss from another team. If Mississippi State wins, it would then need only to win one of its final two games to take the division. FPI projects that Mississippi State currently has a 98 percent chance to win either of those games (vs. Vanderbilt and at Ole Miss).
Probably the most intriguing matchup in the game is Dak Prescott, one of the top two players in ESPN's latest Heisman Watch, against an Alabama defense that ranks third in defensive efficiency.
SEC's Finest- 2014 Season
The Tide are the only FBS team that has held each of its opponents to fewer than 25 points this season. In comparison, Mississippi State has scored at least 34 points in eight of its nine games, and Prescott has accounted for at least three touchdowns in all eight of those games.
The only game that Mississippi State's offense was stymied was a 17-10 win against Arkansas on Nov. 1, a game played a week after Prescott was seen wearing a walking boot on his left foot.
This is a matchup of strengths. Prescott has accounted for an SEC-high 30 touchdowns, 19 more than Alabama's defense has allowed in nine games. Alabama's FBS-low 11 touchdowns allowed are as many as Prescott has accounted for in three games against ranked opponents.
Below is a breakdown of specific areas where Prescott and Alabama will be tested.
When Prescott runs
Running against Alabama is a tough proposition. During Nick Saban's eight-year tenure as coach, Alabama has allowed the fewest rushing yards per game (91.0) and yards per rush (2.9) in the FBS. In that time, the Tide have allowed an FBS-low nine players to rush for at least 100 yards, none of them quarterbacks.
If any quarterback is going to rush for 100 yards against Alabama, it might be Prescott, who has had eight such games since the start of last season, tied for the second-most by an FBS quarterback behind Navy's Keenan Reynolds. Prescott ranks in the top three among FBS quarterbacks in most rushing categories this season. He is third in yards (779), tied for first in touchdowns (11) and tied for second in first downs (52).
One scenario to watch is when Prescott runs the ball between the tackles. Mississippi State is averaging a Power 5-high 174.3 rush yards per game between the tackles. On such runs, Prescott is second in the SEC in yards (667) and yards per rush (7.6), and he leads the conference with nine touchdowns (minimum 40 rushes).
In comparison, Alabama has allowed an SEC-low 68.4 rush yards per game and two touchdowns between the tackles. Last week, the Tide held LSU to a season-low 3.1 yards per rush up the middle.
Third down
On third down, Prescott has been responsible for an FBS-high 14 touchdowns and is converting a first down on 52 percent of his plays. The FBS average for third-down conversion percentage is 41 percent.
Dak Prescott on 3rd Down- This Season
Alabama's defense ranks eighth in the SEC in third-down conversion percentage (36 percent) but has been a different team at home. At home, the Tide have allowed their opponents to convert 18 percent of their third downs, which leads the FBS. Away from Tuscaloosa, the Tide have allowed a 46 percent third-down conversion percentage, tied for 86th in the FBS.
Big plays
Prescott has an SEC-high 45 plays, including 15 touchdowns, of 20 yards or longer. He has at least three plays of 20-plus yards in every game this season, including 17 against three ranked opponents. Alabama has allowed an SEC-low 25 plays (three touchdowns) of 20 yards or longer. The Tide have held their opponents to fewer than three 20-yards plays in four of nine games.
Alabama's ability to stop big plays should be a determining factor against Mississippi State. The Bulldogs have gained 47 percent of their total offense on 20-yard plays, which is the highest percentage in the SEC and fifth-highest percentage in the FBS.
Something has to give
Mississippi State and Alabama rank first and second in Strength of Record and Game Control, respectively.
At 9-0, Mississippi State has the best resume in the country, but FPI projects that Alabama is the strongest team in the nation on a neutral field. We will learn a lot about these teams Saturday, but Alabama's ability to stop Prescott should go a long way toward determining which team has the upper hand in the SEC West.