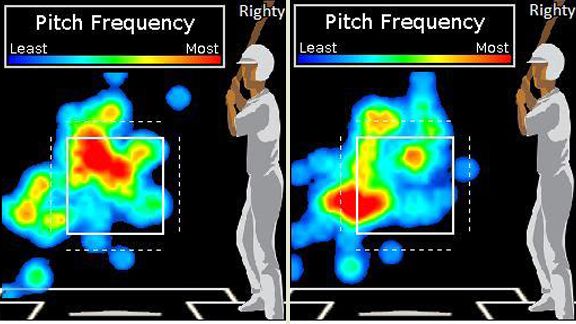 The heat maps above show Jesse Crain's slider usage against right-handed hitters. The image on the left shows his pitch location in April. The image on right shows his pitch location in May.

CrainJesse Crain of the Chicago White Sox had the strongest month among middle relievers, as thus far he's the only non-closer in May to make at least 10 appearances and not give up a single run. In that span he's held opponents to a batting average of just .135, allowing only five hits in 11 1/3 innings. Crain also collected six holds.
What was his go-to pitch? As usual, Crain utilized his slider to near perfection. He threw that pitch 82 times in May, nearly as often as his fastball (92), and only once did a batter get a hit off it. While that pitch was very effective in April as well (only two hits in 81 pitches), Crain is keeping his slider down and away this month against right-handed hitters.
The heat maps at the top of the piece show Crain's slider location to righties. The image on the left shows his usage in April, the image on the right shows his usage in May. Notice the difference in the red shading, which indicates where Crain threw his slider to right-handers most frequently.

Mariners Keeping Things Economical:
After a sluggish start to the season, Seattle is back around .500 as the calendar nears June. While the bullpen's ERA is merely average at best (3.84), Mariners relievers have been keeping at-bats economical. Through Thursday's games, the Seattle bullpen averaged just 3.59 pitches per plate appearance, the fewest in baseball.
David Pauley's 3.37 pitches per plate appearance is best on the team, minimum 15 innings. He also sports a 0.89 ERA this season in over 30 innings of work. According to Inside Edge, over 50 percent of Pauley's innings go the minimum, well above the league average of 35 percent.
Putz Continues to Roll:

PutzArizona Diamondbacks closer J.J. Putz continued to dominate this week, collecting five saves while allowing no hits and just one walk since last Saturday. His 15 saves are the most in the majors among players without a blown save in 2011, and he's allowed just one run in the month of May.
The 15 straight saves are already tied for the 2nd-most in Diamondbacks franchise history, and according to Elias, he's seven shy of matching the franchise mark set by Gregg Olson in 1998. Putz's fastball has lost over a full mile per hour compared to last season, but it's been much more effective this year. In 2010 opponents posted an OPS of .636 against his heater. This year it's at just .450 in 207 pitches.