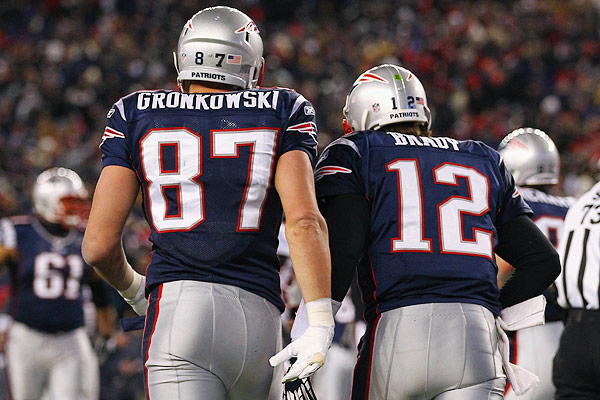 Al Bello/Getty Images
Tom Brady and the Patriots' effectiveness in the Super Bowl could ride on Rob Gronkowski's left ankle.
One of the key storylines leading up to the Super Bowl XLVI is the availability of New England Patriots tight end Rob Gronkowski. He was without a walking boot on media day, but it has yet to be seen if he will be 100 percent against the New York Giants on Sunday.
If he isn't, the Patriots offense might take on a new look.
The Patriots used two or more tight ends on 81 percent of their regular-season plays and have done so on 88 percent of their postseason plays (excluding spikes and kneel-downs). No other team has featured multiple tight ends on a higher percent of plays, and the Patriots don't have a third tight end on their roster.
Patriots WR This Season, Including Playoffs
If Gronkowski is limited or doesn't play, that would likely lead to more three-wide receiver sets. Outside of Wes Welker and Deion Branch, the Patriots haven't had a consistent threat from a third wide receiver this season.
Tom Brady has thrown only 140 of his 681 passes this season with three wide receivers and just one tight end on the field. Although Brady is completing 71 percent of his passes with such personnel on field, he is also throwing an interception about once every 28 attempts, compared to once every 68 attempts with all other personnel groupings.
Less or no Gronkowski could also limit the versatility of Aaron Hernandez. Gronkowski has taken 61 percent of his snaps attached to the line of scrimmage. In contrast, Hernandez has taken 66 percent of his snaps and caught 52 of his 90 receptions when split out wide or in the slot. The Patriots may keep Hernandez in more often to compensate, which could lead to fewer mismatches.
Tom Brady Passing Into End Zone
By Receiver This Season (Inc. Playoffs)
If Gronkowski is able to play he may not be at 100 percent, which could limit his performance in areas he normally excels.
Gronkowski finished the regular season with the fourth-most yards after the catch (641), most among tight ends. The only tight end to average more yards after the catch per reception was Brent Celek (7.9 to 7.1).
Of course, the Patriots could opt to base Gronkowski's playing time on the situation. Only Calvin Johnson has more red zone touchdowns than "Gronk" the past two seasons, and no Patriots receiver has been nearly as effective in the end zone.