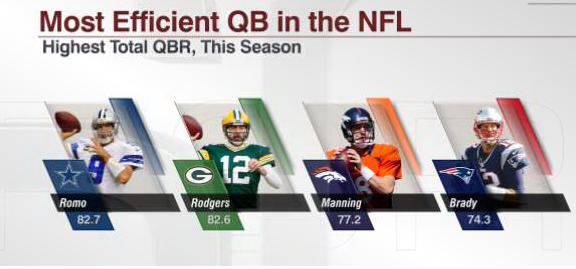 Below are 10 need-to-know facts about the 2014 regular season from the perspective of ESPN's Total QBR.
(1) Tony Romo finished the regular season with the highest Total QBR in the NFL. This is the first time since 2006 (the first year of Total QBR) that Aaron Rodgers, Peyton Manning or Tom Brady did not lead the league in Total QBR.
(2) Aaron Rodgers finished 0.1 points behind Tony Romo for the top spot in Total QBR, marking the closest race for No. 1 since 2006.
(3) Experience matters in today's NFL; Every player ranked in the top 10 in Total QBR has been in the league at least seven years. Conversely, four of the bottom five qualifying QBs in Total QBR are either in their first or second year in the league.
(4) Seven of the top eight players in Total QBR have won at least one Super Bowl. Tony Romo is the only player in the top eight without a Super Bowl ring, and Russell Wilson is the only player ranked outside of the top eight (he ranks 12th) that is a champion.
(5) The top eight players in Total QBR have combined for 60 postseason appearances (includes this season) and 68 playoff wins. The other 22 qualified players have 31 postseason appearances as starters and 20 playoff wins.
(6) Eli Manning had the largest increase in Total QBR (+34.4) from 2013 to 2014 among players with at least 200 action plays each of the last two seasons. Manning ranks seventh in Total QBR this season after ranking 27th last year. He set career highs in Total QBR, completion percentage and touchdown-to-interception differential in 2014.
(7) Josh McCown had the largest decline in Total QBR (-49.4) among that group of players. After throwing 13 touchdowns and one interception last year, McCown was one of two players with at least three more interceptions than touchdowns this season (Blake Bortles was the other).
(8) The average Total QBR this season was 56.0, the highest in a season since QBR was first calculated in 2006.
Total QBR Ranks in Regular Season
Super Bowl Champions, Since 2006
(9) The team with the higher Total QBR won 85.7% of its regular season games this season. That is higher than the comparable mark for teams with the advantage in total yardage, turnover differential and NFL passer rating.
(10) Looking ahead to the playoffs, defense wins championships. Since 2006, three teams that went on to win the Super Bowl had a quarterback ranked in the top 10 in regular season QBR. All but two of those Super Bowl Champions were ranked in the top 10 in opponent QBR, including five in the top 5. The Indianapolis Colts, Detroit Lions and Seattle Seahawks are the three playoff teams ranked in the top five in opponent QBR this year.