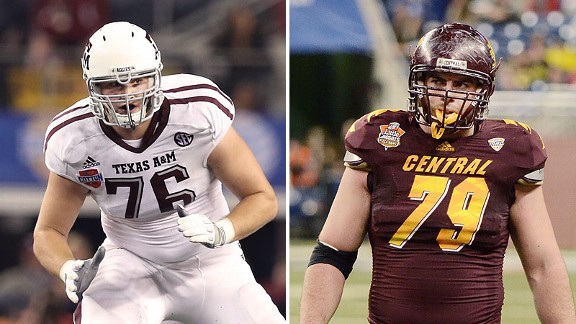 USA TODAY Sports, Getty Images
Luke Joeckel (left) or Eric Fisher (right) could be drafted first overall.The first selections of the NFL Draft are just a day away. Here are our Top 10 overall stats to know on this year's selections.
A lineman is likely No. 1
Luke Joeckel is primed to become just the fourth offensive lineman drafted first overall since the AFL and NFL held their first common draft in 1967. Each of the first three, Ron Yary in 1968, Orlando Pace in 1997 and Jake Long in 2008, made at least four Pro Bowl trips and were named 1st-team All-Pro a combined 10 times.
49ers will be a prominent factor, but will their draftees be prominent factors?
The San Francisco 49ers enter the draft with a league-high 13 picks and could become just the second team to make 13 or more picks in a draft in the last eight years, joining the 2010 Eagles. But the odds of any 49ers rookie making a major impact in 2013 are slim. The 49ers won the NFC last year despite getting only 12 games (and no starts) from their 2012 draft picks, both NFL lows.
Minimal skill position talent in top 10
The top of the 2013 draft class is expected to be heavy on linemen, with some draft experts projecting West Virginia quarterback Geno Smith as the only quarterback, running back or wide receiver to go in the top 10. The fewest offensive skill position players picked in the top 10 in the common draft era is one, done four times with the last in 1997. That year, it was all offensive linemen and defensive players before the Giants drafted WR Ike Hilliard seventh.
An Irish defender in the top 20
Notre Dame linebacker Manti Te'o could become the first Notre Dame defensive player to go in the top 20 since defensive tackle Bryant Young was drafted seventh in 1994. From 1995-2012, 59 different schools have had more defensive players drafted in the top 20 than Notre Dame, including New Mexico, Tennessee State and Division II Kutztown (Pa.).
Top-10 trades are frequent
Is your favorite team picking at the back of the draft? Don't wait to tune in, as the rookie salary scale has made top picks tradable again. In the two drafts with the rookie scale (2011-12), teams have made six trades involving top-10 selections, including five on the day of the draft. There were four trades of top-10 selections in the previous six drafts combined (2005-10).
Raiders have missed out on some good ones
The Oakland Raiders are slated to pick third overall after not having a first-round pick in 2011 and 2012. But Oakland hasn't had much success in the first round in recent years, drafting the likes of Rolando McClain, JaMarcus Russell, Fabian Washington and Robert Gallery, none of whom are currently with the team.
However, the players drafted with the pick AFTER McClain, Russell, Washington and Gallery have combined for 14 Pro Bowl selections. That would be C.J. Spiller, Calvin Johnson, Aaron Rodgers and Larry Fitzgerald.
The Raiders tend to like them fast
The Raiders have taken the player with the best 40-yard dash time in three of the last four drafts. From 2009-11, the Raiders selected Darrius Heyward-Bey, Jacoby Ford and Demarcus Van Dyke, all of whom were fastest in their combine class. Of those three, only Ford is still a Raider. Last year's fastest player (cornerback Josh Robinson) was taken by the Vikings 29 picks before Oakland's first selection. This year's fastest player was Texas wide receiver Marquise Goodwin, who ran a 4.27 40-yard dash at the combine.
NFC East teams could use help halting deep threats
All four NFC East teams were ranked in the bottom six in Total QBR on defending throws deeper than 15 yards downfield. Of the eight free agent secondary signings by NFC East teams so far, only Philadelphia's Cary Williams (four) had more than two interceptions last year.
The NFC East has the NFL's touchdown leader (Tony Romo, 14) and completion percentage leader (Robert Griffin III, 55.7 percent) on throws at least 15 yards downfield. Eli Manning also had 22 plays of at least 30 yards on those throws, tied for second most in the league.
The Cardinals have many needs
How bad was it in Arizona last season? Four different quarterbacks had at least 50 dropbacks for the Cardinals, the most of any team. The Cardinals were the only team in 2012 without a receiving touchdown by a tight end. The Cardinals' offensive line allowed ball carriers to be hit in the backfield on a league-high 22.4 percent of rushes, and none of the four Arizona backs with at least 50 rushes gained more yards per rush after contact thanthe league average (1.6). The Cardinals added Carson Palmer and Rashard Mendenhall this offseason.
Broncos could use Manning protection
The Broncos ranked 25th in the league with a 3.8 yards per rush average last season. Peyton Manning was sacked every 29.7 dropbacks last season, best among qualified quarterbacks, but four of the seven Broncos linemen with at least 250 snaps have had surgery since October and another (center Dan Koppen) is an unrestricted free agent. Only guard Louis Vasquez has been added so far in free agency to a Broncos' line that could seek reinforcements at the draft.