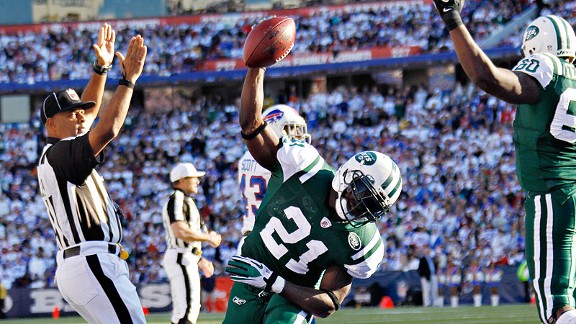 AP Photo
LaDainian Tomlinson and the Jets had a lot to celebrate in their 27-11 win over the Bills.
The New York Jets "ground-and-pound" is officially back. The Jets rushed a season-high 39 times for 126 yards in their 27-11 win over the Buffalo Bills at Ralph Wilson Stadium.
In the first five games of the season, the Jets averaged just 23 rushing plays and 76 rushing yards per game. They've gone back to the basics in the past few weeks, though, averaging 33 rushes and 131 rushing yards during their current three-game win streak.
The Jets used a new look on offense by lining up a running back and fullback behind Mark Sanchez on 40 of 68 plays (58.8 percent). They entered Week 9 using that set on only 32 percent of plays. The Jets found success with this backfield formation, gaining 88 of their 126 rushing yards on those plays.
Mark Sanchez Play-Action Passing
This Season
Mark Sanchez complemented the Jets strong running game with one of the most efficient games of his career, completing 20-of-28 passes for 230 yards. His completion percentage of 71.4 was the second-highest of his career, though he did throw his first red-zone interception of the year in the first half.
The Jets ability to pound the ball early and often on the ground opened up the play-action passing game for Mark Sanchez, who completed 11 of 12 passes for 129 yards and his only touchdown of the day when using a play fake.
New York's opportunistic defense sealed the win, forcing three turnovers, including a forced fumble in the third quarter when the game was still within a touchdown. Less than two minutes later, LaDainian Tomlinson scored on a one-yard run to give the Jets a 13-0 lead.

Re-writing the record books
• The Miami Dolphins beat the Kansas City Chiefs, 31-3, for their first win this season. The 28-point victory was the third-largest win margin by a team to start 0-7 or worse in their first win of the season, according to Elias.
• Drew Brees threw two touchdowns in the New Orleans Saints 27-16 win over the Tampa Bay Buccaneers. Brees extended his streak of games with a passing touchdown to 36 games, tying Brett Favre for the second-longest streak in NFL history.
• Brees also finished the game with 258 passing yards, bringing his season total to 3,004 yards, which is the most in the first nine games of a season in NFL history.
• Frank Gore rushed for 107 yards in the 49ers 19-11 win over the Redskins, becoming the first 49ers player to rush for 100-plus yards in five straight games.
• Redskins kicker Graham Gano booted a franchise-record 59-yard field goal in the Redskins loss to the 49ers.