With bowl season upon us, we can project the winners of the 35 Football Bowl Subdivision bowl games using the Football Power Index.
FPI is a predictive measure of team strength that uses the elements of team offensive, defensive and special-teams performance (adjusted for opponent) that correlate most with future results.
We can use each team's FPI and the site of the game (all bowl games are treated as neutral) to calculate the expected point differential in a matchup and the percentage chance of each team winning.
FPI Projected Winners in Bowls
Since 2004
In prior years, FPI has done reasonably well in projecting bowl winners (taking the team with the higher chance as the "winner"), getting about 65 percent of games right since 2004.
There have been some lean years in the past, but FPI has been quite good in the three most recent bowl seasons, accurately projecting 70 percent of winners in those games.
FPI takes into account only a team's on-field performance to date in the given season. It doesn't explicitly take into account players who are out with injuries or for other reasons, coaching movement before the bowls or differing levels of motivation that are sometimes thought to exist in bowl games.
In the 2013 regular season, starting with games on Sept. 26, FPI accurately projected 74 percent of winners.
FPI believes there to be a very clear favorite (80 percent or more to win) in four of the five BCS matchups, with Ohio State and Clemson as the most evenly matched BCS opponents.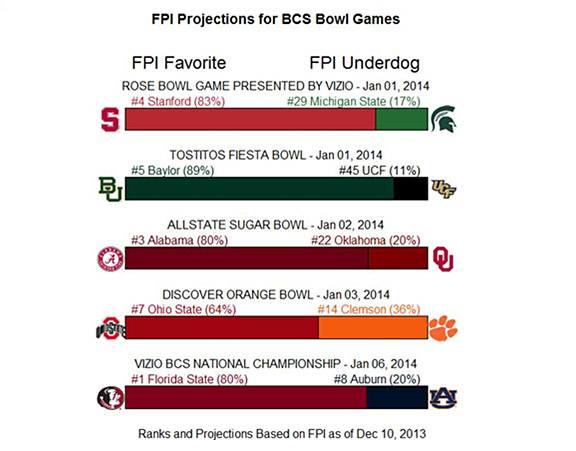 The projections for all 35 bowl games this season are below. A couple of things that stand out:
The two most-lopsided matchups, according to FPI, involve a Pac-12 team facing a Big 12 opponent from Texas. FPI has Oregon as 91 percent likely to defeat Texas in the Valero Alamo Bowl and Arizona State as 91 percent likely to beat Texas Tech in the National University Holiday Bowl.
The most-even matchup, according to FPI, is Kansas State versus Michigan in the Buffalo Wild Wings Bowl, with the teams separated by a little more than a point in FPI (the Wildcats are 53 percent favorites). The closest "high-profile" bowl game is the AT&T Cotton Bowl between Oklahoma State and Missouri, with the Cowboys 54 percent likely to win, according to FPI.
The Vizio BCS National Championship is the only bowl game with both teams ranked in the top 10 in FPI. Three other games involve two FPI top-20 teams: Wisconsin-South Carolina in the Capital One Bowl; Oklahoma State-Missouri in the Cotton Bowl and Ohio State-Clemson in the Discover Orange Bowl.
Complete FPI-Based Bowl Game Projections