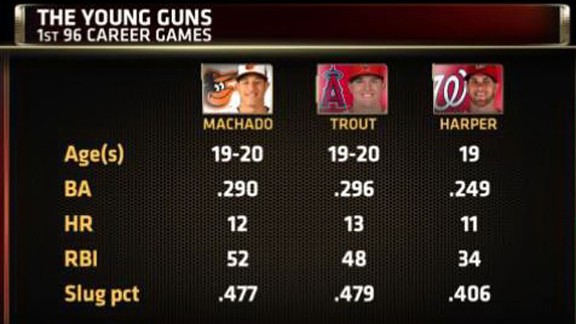 Manny Machado has had a better start to his career than Mike Trout or Bryce Harper.Hiroki Kuroda takes the hill for the New York Yankees against the Baltimore Orioles on Wednesday Night Baseball (ESPN, 7 ET).
Kuroda is 2-1 with a 1.93 ERA in four career starts against the Orioles (including the postseason), all coming since he joined the Yankees. He's pitched at least seven innings in each of those outings and thrown a pitch in the ninth inning in three of them.
In his start this season, he threw a 5-hit shutout, including just two hits over his final 23 batters faced.
Hiroki Kuroda vs RHB This Season
Kuroda has done a number on righties this season, holding them to a .399 OPS, which is 55 points lower than the next-closest starter. He's struck out 21 righties and walked just 3 (18 strikeouts, 11 walks vs LHB).
He's also been great against the middle of the order this season. He's allowed a .384 OPS to opposing 4-7 hitters, the lowest among starters in the American League.
One of those righties will be Orioles third baseman Manny Machado. The 20-year-old is hitting .348 against right-handed pitchers this season -- Miguel Cabrera is the only AL righty hitting higher against righties.
Machado was the youngest Opening Day starting 3B since Adrian Beltre in 1999 for the Dodgers. He was the youngest in the AL since Brooks Robinson in 1957.
You can see above how Machado compares to other young stars.
Matchups to Watch
Yankees Bullpen vs Orioles
This Season
The Yankees bullpen has combined to post a 1.73 ERA (11 ER, 57 1/3 IP) and hold opponents to a .200 (38-for-205) batting average with 60 K and just 13 BB in May. The winning run last night was the first run allowed by the Yankees bullpen on the road this month (in 27 2/3 IP).
Power Up the Middle
Two of the top three middle infielders in home runs since the start of the 2011 season are in this game -- Yankees second baseman Robinson Cano (first with 70) and Orioles shortstop J.J. Hardy (third with 60).
He's Going Streaking
Ichiro Suzuki has an active 20-game hit streak at Camden Yards dating to April 2008, hitting .391 (34-87) in that span.
According to the Elias Sports Bureau, a hit tonight would tie him with Joey Votto (at Minute Maid Park) for the longest active hit streak at a single park and put him one behind Jacoby Ellsbury (from August 2008-August 2012) for the longest hit streak at Camden Yards.
Cutting Down on Ks
In a season where strikeouts are at an all-time high, the Orioles have cut down on the strikeouts from last season. They struck out at the third-highest rate in the AL last season (21% of PA). This year, they have the AL's second-lowest K rate behind Texas (17%).

• Chris Davis cut his K rate from 30% to 25%
• Manny Machado cut his from 19% to 14%
• J.J. Hardy cut his from 15% to 10%
• Nick Markakis cut his from 11% to 8%
• Nate McLouth cut his from 18% (with BAL last year) to 12%
• Mark Reynolds signed with the Indians (30% last season)