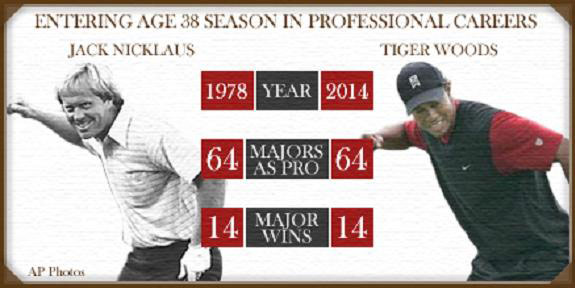 Illustration by Trevor Ebaugh
Tiger Woods is on a parallel path to that of Jack Nicklaus.The 2014 PGA Tour gets underway this week at Torrey Pines and there are a number of notable stories related to Tiger Woods this season. Here's a quick run-through:
• Woods enters the 2014 calendar year with 79 career PGA TOUR victories, four shy of breaking Sam Snead's all-time record of 82 that has stood since 1965.
Since playing his first full season on the PGA TOUR in 1997, Woods has won at least four times in 12 of his 17 seasons.
• Woods enters 2014 at age 38 with 14 career major championships, five shy of breaking the record of 18 held by Jack Nicklaus. Nicklaus also entered his age-38 season with 14 career major titles. Breaking the record will be tough. Ben Hogan is the only player ever to win five majors after his 38th birthday.
For the first time since 1999, Woods could end the year trailing Nicklaus' major-winning pace. Nicklaus won his 15th major in his 67th career major (1978 Open Championship). Woods will reach that same number of starts at this year's Open Championship at Royal Liverpool.
• The schedules of majors for this year and next year appear to be favorable for Woods.
There will be eight majors contested on seven courses before Woods' 40th birthday. He has won on four of those courses (Augusta National, Royal Liverpool, Valhalla, St. Andrews) for a total of eight major titles.
He has four wins at Augusta (1997, 2001, 2002, 2005), and one win each at Royal Liverpool (2006) and Valhalla (2000), each of which he will play at this year.
Though Woods hasn't won a major in a while, he's been close. Since his victory at the 2008 U.S. Open, he has nine top-6 finishes in 18 starts, the most of anyone in the sport.
• Woods will be starting in a place where he's had much success before, as Justin Ray noted in his column, and as the image below indicates.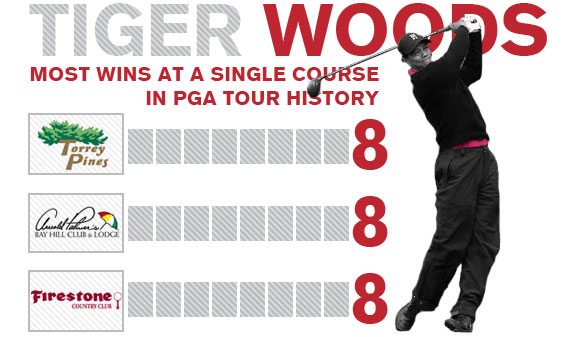 Illustration by Trevor Ebaugh