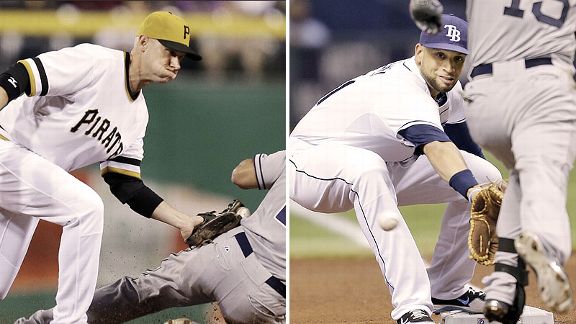 AP Photo
Clint Barmes and James Loney are capable of making the tough defensive play.Most of the time when we look at notable MLB moves, we look at how they improve a team's offense or pitching. But what about how they impact a team on defense? We'll go around the diamond and devote our weekly signings roundup to that subject this week.
Loney handles first base well
First baseman James Loney signed on for three more years with the Tampa Bay Rays after a season in which he posted his best OPS since 2007. But Loney contributes on the other end too.
Loney doesn't have overwhelming defensive numbers, but he's rated positively in Defensive Runs Saved in each of his eight seasons in the major leagues.
Baseball Info Solutions, a company that does video tracking for major league teams and media, likes certain aspects of Loney's play.
Loney's 259 "Good Fielding Plays" (think: Web Gem nominees) rank second-most among first basemen over the last four seasons, trailing only Joey Votto's 268.
There are certain things that Loney does very well defensively. His long reach comes in handy with foul balls by the stands.
He's made a dozen catches over the last four seasons in which he reached into the seats to pull back a foul ball, the most among first basemen. He's also started the most double plays at that position in that span (50) and has the third-most Good Fielding Plays for handling difficult throws (such as those in the dirt and that required him to reach off the base to get an out), 151.
Loney does make some mistakes, but not enough to offset what he brings. His ratio of Good Fielding Plays to Defensive Misplays & Errors rates 10th-best in that span. In 2012, Rays first basemen averaged 2.3 Good Fielding Plays per Defensive Misplay. Loney had 68 Good Plays and 22 Misplays & Errors, for a ratio of better than 3-to-1 in 2013.
Cano a standout
The Mariners acquisition of Robinson Cano should provide them a defensive boost too.
Cano has 21 Defensive Runs Saved over the past two seasons, the fourth-most of any second basemen. He has excelled in ranging far to his left and right to make plays. Cano's 119 "Out of Zone plays" over the last two seasons edge out Dustin Pedroia for the most at that position.
Mariners second basemen rated exactly major-league average last season (0 Defensive Runs Saved).
Pirates bring back defensive specialist
Clint Barmes is about as good as they come defensively. He's not as flashy as someone like Andrelton Simmons of the Braves, but Barmes makes up for that with consistency.
Barmes has 89 Defensive Runs Saved as a shortstop since 2003 (which is both the year the stat was first compiled and the season in which Barmes debuted). He rates third among shortstops in that stat and also ranks third when looking at that number on a per-inning basis. Barmes has seven seasons in which he's been credited with at least 10 Defensive Runs Saved (which includes his time playing second baseman). Only Adrian Beltre has more, with eight.
He hasn't slowed down at all. His 39 Defensive Runs Saved over the last three seasons rank third in the majors, trailing only Andrelton Simmons (60) and Brendan Ryan (51).
-- Mark Simon
Uribe solid at the hot corner
Juan Uribe, who was reportedly close to an agreement with the Dodgers, had quite a contract year for them after being below replacement level in his first two seasons of his deal.
Most Defensive Runs Saved
3B Last Season
He ranked third among third basemen with a career-best 15 Defensive Runs Saved last season.
Handling the hot corner means facing a lot of screaming liners, and when it came to Good Fielding Play-grabs of liners, Uribe was tied for third among third basemen last season with five. Only Evan Longoria (8) and Josh Donaldson (6) had more.
-- Kenton Wong
Davis adds to Tigers depth
The Tigers added a capable outfielder, signing Rajai Davis to a two-year contract.
Davis will likely platoon with current left-fielder Andy Dirks. The two have similar defensive profiles, though Davis rated slightly better in a small sample of games at the position last season.
Last year in just under 400 innings, Davis secured outs on all 63 balls hit into his fielding zone (areas in which more than half of batted balls are turned into outs), and made a defensive misplay or error (per video review by BIS) once every 64 innings, compared to once every 48 innings for Dirks.
Davis will also be a capable backup in center for Austin Jackson or right for Torii Hunter. He has played 3,200 innings as a centerfielder and 670 as a rightfielder, contributing above-average defense at both positions in his career.
-- Katie Sharp