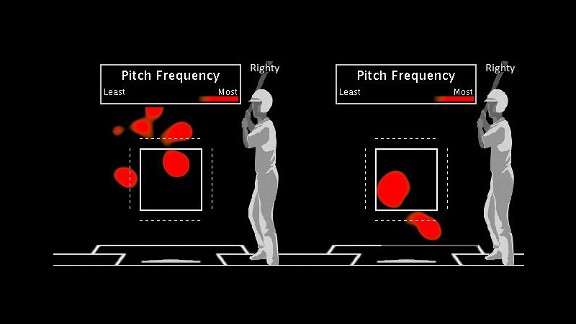 Left: Where Gio Gonzalez threw his 92 mph fastball in 0-2, 1-2 counts
Right: Where Gonzalez threw his 80 mph curveball in 0-2, 1-2 counts
Click here to create your own Gonzalez heat maps
Each Sunday, ESPN Stats & Information provides a statistical recap of notable transactions from the week.
Nationals trade for LHP Gio Gonzalez
Gonzalez became known in Oakland for his nasty curveball. Over the past two seasons, he's thrown his hook nearly 30 percent of the time, the third-most-often among left-handed pitchers. His 212 strikeouts with the pitch in that span are the most in the majors.
One thing that Gonzalez did last season was change his approach against right-handed hitters. In 2009, when he was ahead 0-2 or 1-2 on a righty, he threw his fastball only 25 percent of the time.
In 2010, he upped that rate to 35 percent, then upped it again to 47 percent last season.
Gio Gonzalez
2011 vs RHB
By the end of 2011, he'd struck out more right-handers with his fastball (73) than his curveball (71), a dramatic swing from a year prior, when he whiffed 98 with his curve and 33 with his fastball. The heat maps above show where Gonzalez located his two primary pitches when in 0-2 and 1-2 counts.
The change worked, as noted by Gonzalez's effectiveness in the chart on the right.
-- Mark Simon/Lee Singer
Reds acquire LHP Sean Marshall in trade from Cubs.
Marshall had a statistically superb season in 2011, his second straight strong year.
Over the last two seasons, Marshall has averaged better than 10 strikeouts per nine innings, with a strikeout-to-walk rate of better than four-to-one. He's the only one of the 176 pitchers who threw at least 150 innings in that span to be able to hit both of those benchmarks.
Marshall's combination of strikeouts, walks and home runs allowed was so good that he led the majors in fielding independent pitching (2.07 FIP) over the last two years. He was valued at 5.0 wins above replacement combining 2010 and 2011, the best for any relief pitcher.
What makes Marshall so good?
What is FIP?
Definition
Marshall succeeds because he gets hitters from both sides of the plate out at a high rate. He's one of three lefties to hold both left-handed and right-handed hitters to a sub-.600 OPS over the last two seasons (minimum 200 batters faced on each side) along with Jonny Venters and Clayton Kershaw.
Marshall does this primarily with his breaking pitches. He threw the lowest percentage of fastballs of any left-handed pitcher over the last two seasons (just under 40 percent), relying on a curveball and slider, the former of which has the biggest horizontal break of any from a lefty in the majors.
--Mark Simon
Twins sign Jason Marquis
The pitch-to-contact righty Marquis will fit perfectly into the Twins' rotation, which last season had the lowest swing-and-miss rate and highest in-play percentage in the majors.
Batters missed on one of every six swings against Marquis and put the ball in play nearly 50 percent of the time when taking a cut last year.
More than half of his opponents' at-bats resulted in a grounder (this was true for each of his three primary pitches -- fastball, slider, changeup), putting Marquis among the top 10 ground-ball specialists in the league.
Jason Marquis
2011 Starter Ranks
Marquis has posted an ERA below 4.00 just once in his career as a full-time starter, and will be challenged to achieve that performance level this year with the Minnesota Twins.
In 2011, Minnesota's infield defense cost the team 45 runs, the worst mark by any major league team.
The Twins did slightly upgrade at the shortstop position this offseason.
The four shortstops that accounted for minus-27 defensive runs saved in nearly 1,500 innings in 2011 will be replaced by 37-year-old Jamey Carroll, who had minus-5 defensive runs saved in 504 innings at shortstop last year.
--Katie Sharp