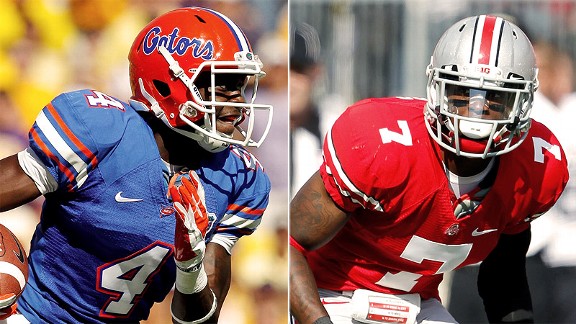 US Presswire/Getty Images
Florida and Ohio State meet in the TaxSlayer.com Gator Bowl on Monday afternoon. Both schools are trying to avoid snapping long streaks with their seventh loss of the season.
The Florida Gators and Ohio State Buckeyes wrap up disappointing seasons when they meet in the TaxSlayer.com Gator Bowl on Monday (ESPN2, 1 ET).
Don't Take Offense
The big reason for each team's rough season has been bad offense. Florida is 102nd in FBS in total offense and was held to zero or one offensive touchdowns in six of its 12 games this season.
Ohio State is 107th in the country in total offense, and the Buckeyes' 3,837 yards gained this season were the second-fewest by any bowl-eligible team.
Stay Off-Center
There's something to watch when each team has the ball that involves the center.
Jeff Demps This Season
Florida running back Jeff Demps has gained nearly 83 percent of his rushing yards outside the tackles. He has 15 runs of 10 yards or more and only two of them have come up the middle.
For the Buckeyes, quarterback Braxton Miller has completed just 40 percent of his passes this season when he takes a snap from under center.
Braxton Miller Passing This Season
Inside/Outside the Pocket
The good news for Ohio State is that when Miller does complete a pass from this formation, it tends to gain big yardage. Seven of his 17 completions after taking a snap under center have gone for at least 20 yards, with three resulting in touchdowns.
Miller has also had much better success as a passer when he gets away from the middle of the field. He hasn't thrown an interception in 25 attempts from outside the pocket, and nearly doubles his yards-per-attempt average in those limited opportunities.
Numbers to Know
Florida has a turnover margin of minus-11, which is eight-worst in the FBS. The Gators have recovered just four fumbles this season -- only two teams have fewer fumble recoveries.
In terms of wins and losses, these are the worst Ohio State and Florida teams in a while. The Buckeyes have six losses for the first time since 1999, while it's the first time for the Gators since 1987.
Florida has finished with a winning record every season since 1988. Officially, that's the longest active streak in the nation due to Florida State's vacated wins in the 2006 and 2007 seasons.
The loser of this game will finish with seven losses. Florida hasn't lost that many games since finishing 0-10-1 in 1979. Ohio State's last seven-loss season was way back in 1897, easily the longest active streak in the nation. Florida State is second on that list -- its last seven-loss season came in 1975.