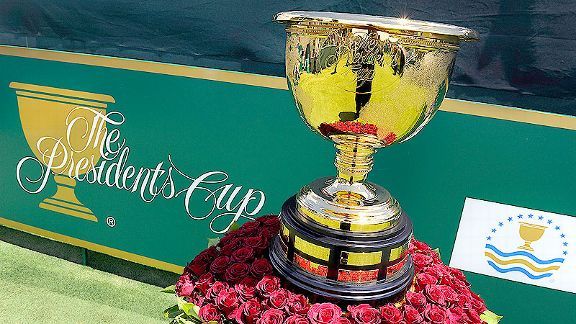 Stan Badz/PGA/Getty Images
The U.S. has won 7 of the first 9 President Cups, including all 5 at home.The Presidents Cup tees off starting tomorrow from the Muirfield Village Golf Club in Dublin, Ohio.
We take a look at some of the top storylines.
1. The United States has dominated The Presidents Cup over the years, winning outright seven of the nine times it's been contested. The U.S. is a perfect 5-0 when the event has been held on American soil.
U.S. and International Teams
Presidents Cup History
We might know who will win this event by the end of the first day. In the history of The Presidents Cup, the team with the Day 1 lead has won seven of the nine times.
Three times the U.S. has gotten out to a five-point lead, and twice the International squad has been shut out after the first day of competition.
2. Muirfield Village Golf Club hosts this event for the first time. It's the same course that hosts the Memorial Tournament each year, where Tiger Woods has won five times (in 14 career starts).
In fact, 23 of the 24 players on these teams have played the course in tournament competition, with Hideki Matsuyama being the lone exception.
3. Tiger Woods enters this year's event tied with Jim Furyk for the most match wins (20) in U.S. team history. He has also provided the winning point in each of the last two Presidents Cups.
Tiger has been fairly dominant in singles play at this event, winning five of his seven career singles matches.
Tiger Woods in Foursomes
He's also been strong in foursome matches (alternate-shot), especially compared to the Ryder Cup, where that has been his worst format.
Tiger has come away with 75 percent of the possible points in his 14 foursome matches in The Presidents Cup, while he's collected less than half that rate in the Ryder Cup.
4. Twenty-year-old Jordan Spieth, who was still an amateur at the University of Texas last fall, will make his Presidents Cup debut, the youngest player ever to compete for the United States. He's one of four first-timers on the U.S. team, joining Keegan Bradley, Jason Dufner and Brandt Snedeker.
5. American captain Fred Couples will try to win a third Presidents Cup, which would set a record for a captain for either team in this event's history.
Under Couples' leadership, the United States has outscored the International team by nine points over the last two events.