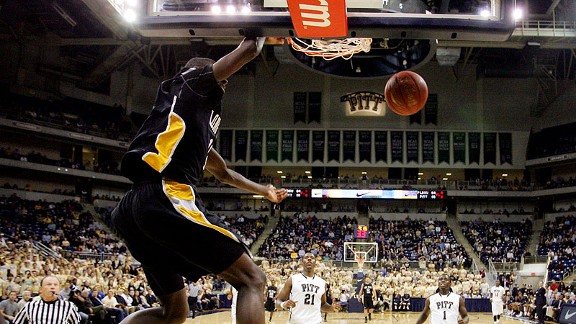 Charles LeClaire/US Presswire
James Ennis (above) and his 49ers teammates were soaring in Wednesday's win over Pittsburgh.
• Long Beach State stunned No. 9 Pittsburgh, 86-76, snapping all sorts of noteworthy streaks. The Panthers had won 58 straight at home against non-conference opponents, and this is just their second loss in the last 109 such games.
Pittsburgh had also won 52 straight home games against unranked opponents. Until Wednesday, the Panthers were 41-0 in November against unranked non-conference foes since the opening of the Petersen Events Center.
Home Win Streaks Snapped
In Pittsburgh's Loss
Long Beach State had lost 20-straight games against ranked opponents, last winning in 1994 against New Mexico State. It's the 49ers first win over a top-10 foe since knocking off No. 1 Kansas in 1993.
So how'd the 49ers do it? Long Beach State shot 59.3 percent from the field, the best shooting percentage against a Pittsburgh team by a non-conference team since Maryland shot 62.7 percent in November 1998. Pittsburgh's bench combined to shoot 0-for-6 from the field, and finished with only two points.

• Three games into his Oklahoma State career and Cezar Guerrero already has the fans chanting his name. The freshman came off the bench for 29 points in the Cowboys' 90-85 overtime escape of UTSA. It tied Oklahoma State's freshman scoring record, which he now shares with James Anderson and Byron Houston. Guerrero hit 8-of-17 from three-point range, the second most makes in school history.
The 29 points were the most by a Big 12 player coming off the bench since Mike Singletary's epic 44-point performance for Texas Tech in 2009. It's the most for a Big 12 freshman coming off the bench since LaceDarius Dunn's 38 in 2008.

• Penn State's Tim Frazier had his second straight 20-point, 10-assist game as the Nittany Lions defeated Long Island 77-68. Frazier had a career-high 26 points, and is averaging 20.7 ppg and 8.7 apg through three games.
That's a huge scoring improvement from 6.3 ppg in 2010-11. There have only been six 20-point, 10-assist games in the nation this season, and Frazier has two of them. He's the first major conference player to have two such games in November in at least the last 15 seasons.

• Oregon State topped Hofstra 82-72 in what head coach Craig Robinson called "by far the gutsiest win I've seen since I've been here." Jared Cunningham scored a career-high 35 points, the most by an Oregon State player since Marcel Jones' 35 in November 2006.
Joe Burton (11 assists, 10 rebounds) became the first Oregon State player with double-digit assist in seven years, and the first with 10 rebounds and 10 assists in at least the past 15 seasons. Though the Beavers haven't played a tough early schedule, they are 3-0 for the first time since 2000-01.

• At halftime, the score was Pat Connaughton 17, Sam Houston State 16. Notre Dame actually held a 22-point halftime lead on its way to a 74-41 win, but it was the freshman that was the story. He finished with 24 points, the most by a Notre Dame freshman since Torin Francis in March 2003. His six 3-pointers were the most by an Irish freshman since Chris Thomas in March 2002.
For a Notre Dame team historically lacking in bench scoring, it was a rare high-scoring performance by a non-starter. In fact, the 24 points are the most off the bench by a Notre Dame player since Chris Quinn in 2003.