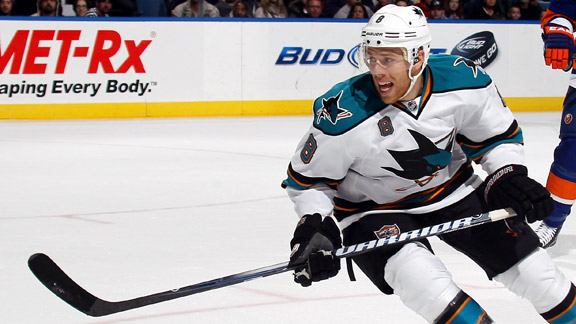 Bruce Bennett/Getty Images
Joe Pavelski has been an impact player for the Sharks in 2011-12 thanks largely to the presence of Joe Thornton.
When the San Jose Sharks shipped Devin Setoguchi and Dany Heatley to Minnesota over the summer, a spot on the right side of Joe Thornton opened up for a winger to fill. That's turned out to be a boon for Joe Pavelski, who will be back on the ice tonight when the Sharks meet the Detroit Red Wings in San Jose.
Sharks general manager Doug Wilson had an embarrassment of riches of sorts last season, with the Sharks sporting seven forwards to fit into the first three lines, and Pavelski was usually the odd man out. For much of the 2010-11 season, Pavelski centered the Sharks third line with wingers Kyle Wellwood and Torrey Mitchell flanked alongside.
Pavelski still put up respectable offensive numbers (20 goals, 66 points). Of Pavelski's 20 goals last season, Thornton was on the ice for 65 percent of them, including all 11 of Pavelski's power play goals.
Joe Pavelski, Last 2 Seasons
That led to this season. Pavelski looks like he'll be the next player to have a career year playing next to one of the league's top playmaking centers.
Pairing Thornton with a right handed shot has historically garnered positive results. Just ask ex-Bruins teammate Glen Murray (44 goals in 2002-03) or ex-Sharks teammate Jonathan Cheechoo (56 goals in 2005-06).
Pavelski's shooting percentage has jumped from 7.1 percent a year ago to 19.1 percent in the early part this season, and all nine of his goals have come with Thornton on the ice, with Thornton assisting on six of them.
Pavelski gets time and space from Thornton's ability to hold and protect the puck down low, as well as draw double-teams in the corner. Pavelski has scored eight of his nine goals this season from in front of the net or the slot, with the only exception being an empty-netter.
The Red Wings know Pavelski's ability to score. The Sharks and Red Wings have met in the second round of the Stanley Cup Playoffs in each of the past two seasons, with San Jose ending Detroit's season on both occasions.
Pavelski had success in the 2010 series, when he scored four goals and added three assists while helping dispatch the Wings in five games. The Sharks have won five of the last six regular-season meetings, including a 4-2 win in Detroit on October 28.
Pavelski will be one worth watching tonight. The Sharks are 7-1-1 this season when he scores at least one point.