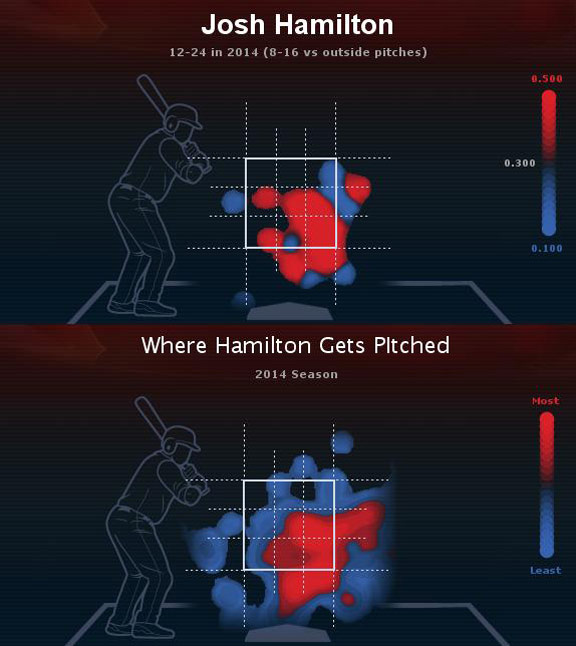 The results look good a week into the season for Josh HamiltonJosh Hamilton getting pitched outside has been a fact of baseball life the last couple of seasons. No hitter gets pitched that way quite like Hamilton does.
Josh Hamilton
1st 7 Games in Last 2 Seasons
But at least in the first week of the season, Hamilton is doing something about it.
The sample is really small, but as the image above shows, Hamilton is succeeding where he's failed in the past. He's 8 for 16 in at-bats that end with an outside pitch, including 1 for 2 with three walks in the Angels' win over the Houston Astros last night. That came on the day he was named co-AL Player of the Week.
The last couple of seasons, Hamilton had a propensity to chase the outside pitch. He swung at nearly 40 percent of pitches off the outer third of the plate that were out of the strike zone in 2012 and 2013. He's done so less than one-fourth of the time through seven games in 2014.
Hamilton has also been more willing to hit the ball on the ground rather than lift it. His ground-ball rate the last two seasons was 38 percent. It's 61 percent so far in 2014.
The results have put Hamilton in good company. The Elias Sports Bureau notes that the last Angels player prior to Hamilton with a .500 batting average after the team's first seven games of a season (minimum 20 at-bats) was Garret Anderson in 2003 (15-28, .536).