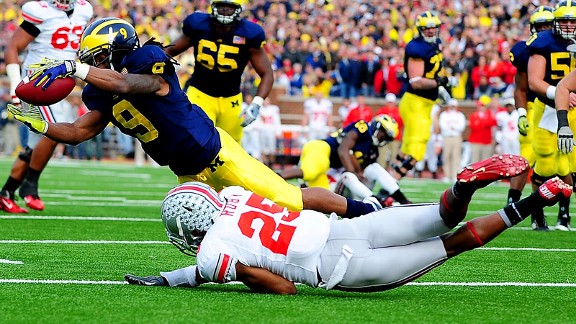 Andrew Weber/US Presswire
Martavious Odoms and his teammates gave the extra effort needed to get a win over Ohio StateMost Michigan Wolverines football fans weren't alive, and their parents might not have been alive, the last time their team put up 40 points against the Ohio State Buckeyes.
The 40-34 win snapped a seven-game losing streak for Michigan against Ohio State, its longest losing streak ever against the Buckeyes and tied for their second-longest against any team in school history (the Wolverines lost nine straight from Minnesota from 1934 to 1942). It was the first time Michigan scored that many points in a game versus Ohio State since tallying 58 in 1946.
Denard Robinson became the third FBS player since 2000 to pass for 150 or more yards, rush for 150 or more yards and account for five touchdowns in a single game. The others are Chris Nickson of Vanderbilt (2006 vs Duke) and Cam Newton (2010 vs South Carolina and Arkansas State).
Among his other accolades:
• Robinson rushed for 170 yards, more than he'd run for in his previous three games combined (168). Robinson's 170 yards are the third-most by a Michigan player against Ohio State, the most since Tim Biakabutuka rushed for 313 against them in 1995.
• Robinson became the fourth Michigan quarterback to throw for three touchdowns in a game against the Buckeyes, joining Bob Chappuis (1946), Jim Harbaugh (1985) and Drew Henson (2000).
• Robinson's first touchdown pass gave him 36 for his career, passing Tom Brady on Michigan's all-time list. His last gave him 38, passing Todd Collins for sixth-most.
• Robinson's two rushing touchdowns gave him 35 for his career, passing Rick Leach (who went on to play major league baseball) for fifth-most in team history.
Most Rush Yds vs Ohio State
By Michigan player (All-Time)
• Robinson and teammate Fitzgerald Toussaint each cleared 1,000 yards rushing for the season. It's the second time in team history that the Wolverines had a pair of 1,000-yard rushers in the same season. The only other was 1975, when Gordon Bell rushed for 1,390 yards and Rob Lytle rushed for 1,040.
Ohio State's loss ensured that it would finish under .500 in Big Ten play for the first time since 1999, when it went 6-6 overall, 3-5 in league play.
Elsewhere in some of the day's earlier action:
Cousins, Cunningham move up in the record books
Kirk Cousins threw two touchdown passes for the Michigan State Spartans, passing Jeff Smoker for the most in team history, in a 31-17 win over the Northwestern Wildcats.
Both scores went to B.J. Cunningham, who now has 22 touchdown receptions, passing Plaxico Burress and Andre Rison for third place in school history. Next up-- former Spartans great receiver and current Arizona Diamondbacks manager, Kirk Gibson.
What a comeback!
The North Carolina State Wolfpack outscored the Maryland Terrapins, 35-0 in the fourth quarter of a 56-41 win. The 35 points are tied for the second most any FBS teams has scored in the fourth quarter to tie or win a game in FBS history, trailing only a 36-point effort from BYU in rallying from a 29-14 deficit entering the fourth quarter against Washington State.