As the Tampa Bay Rays look to take a 2-1 edge Monday in the series, David Price looks to do something he's never done before: Defeat the Texas Rangers.
Price is winless in six career regular season starts and two postseason starts against the Rangers. All together, Price is 0-5 with a 5.48 ERA. That's his most losses against a single opponent, and Texas is just one of two teams against which he is two or more games under .500.
Among active starters, Kyle Davies (also 0-5) is the only other pitcher with more than four starts against the Rangers and no wins. In fact, you have to go all the way back to Scott Bailes to find a pitcher with a worse career record against Texas. Bailes, who last faced the Rangers in 1992, finished 0-7 against them.
David Price
Career vs Texas Rangers
In the 2010 ALDS, Price lost both Game 1 and the deciding Game 5 against the Rangers despite both starts coming at home. Oddly, the road team has won six of seven postseason games between these clubs. Price came up short despite a 14-0 strikeout-to-walk ratio.
Price has handled two of the Rangers' top offensive weapons. Josh Hamilton, is 3-for-20 with six strikeouts in his career against the southpaw. Michael Young (2-for-19, 8 K) has also struggled against Price.
However, it's been a much different story against Nelson Cruz. He is 7-for-13 (.538) lifetime against Price with two home runs. Among those with at least 10 plate appearances against Price, only Alex Rios and Victor Martinez have higher slugging percentages.
Both of Cruz's home runs off of Price came on fastballs that drifted up and in. Coincidentally, that's been an area of concern for Price.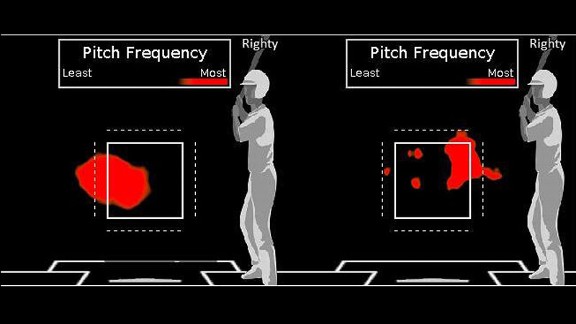 ESPN Stats & Information
The frequency of David Price's fastball against right-handed hitters in his first 32 starts (left) and his last two starts (right).
In his last two starts, Price is 0-1 with a 6.30 ERA. Those came after Price was struck by a Mike Aviles line drive on September 18 against the Boston Red Sox.
Right-handed hitters have given him particular trouble over this time, as they have a .387 OBP and are slugging .577. Price typically works away to righties with his fastball, as the above heat map indicates. However, since being hit with the line drive, Price has lived up in the zone and inside to righties, with poor results that include a pair of home runs allowed. In his first 32 starts, 22.6 percent of Price's fastballs to righties went up and in. In those last two starts, that's jumped to 41.5 percent.