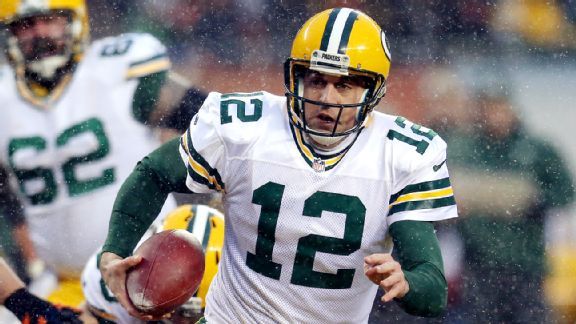 Jonathan Daniel/Getty Images
Aaron Rodgers was conspicuous by his presence in the Packers' victory over the Bears.In his first game since he hurt his collarbone in a Week 9 loss to the Chicago Bears, Aaron Rodgers on Sunday added to his lore.
His 48-yard touchdown pass to Randall Cobb on fourth-and-eight with less than a minute left raised the Green Bay Packers' win probability from 40.7 percent to 99.5 percent. After Cobb's score, the Packers held on to beat the Bears and win the NFC North.
The fourth-down touchdown pass was the biggest play in terms of win probability added (58.8 percent) in Rodgers' career and one of the biggest plays of the 2013 season. The Packers converted three fourth-down situations on their final drive, becoming the second team this season to convert three fourth-down plays on a drive (the Saints did so on a fourth-quarter drive in Week 15 against the Rams).
The Packers finished the season in wild fashion to make the playoffs. Their playoff chances were 5.5 percent after a 30-point loss to the Detroit Lions on Thanksgiving Day. The Packers won three of their final four games, including a one-point victory over the Cowboys in which Green Bay overcame a 23-point halftime deficit and 1.7 percent win probability.
Another tide-turning pass for Cowboys
Kyle Orton followed a fourth-and-nine touchdown pass to Dez Bryant (which created a 23.5 percent win probability swing) with an interception that dropped the Dallas Cowboys' win probability from 44.3 percent to 5.8 percent (-38.5 percent).
The Cowboys' regular-season finale was a fitting conclusion to their season. Cowboys quarterbacks threw nine fourth-quarter passes that swung the team's win probability by at least 20 percentage points in either direction, the most such passes of any team this season.
Chargers rewarded for risky decision
With the score tied in overtime of their game against the Kansas City Chiefs, the San Diego Chargers converted a fourth-and-two at their 28 on a fake punt. If the Chargers had not converted and been stopped for no gain, the Chiefs would have had the ball at the Chargers' 28 needing a field goal to win. The Chargers' win probability at that point would have dropped to 19.1 percent.
Since 2008, NFL teams have converted 18-of-27 fake punts (66.7 percent), including 6-of-7 (85.7 percent) fourth-down fake punts needing two or fewer yards.
Ryan Succop could have all but eliminated the Chargers from the playoff race with a 41-yard field goal with four seconds left in regulation. The Chiefs' win probability was 61.3 percent before the kick, and Succop had been 19-of-25 (76.0 percent) in his career on field goals between 40 and 45 yards.
QBR shows Manning is consistently superior
Peyton Manning posted a 95.4 Total QBR against the Oakland Raiders, his fourth game with a Total QBR greater than 95.0 this season, most in the NFL.
Manning finished this season with a Total QBR of 82.9, his fourth season with a Total QBR greater than 80.0 since 2006 (as far back as we have data). The rest of the league's quarterbacks have combined to post four such seasons during that span (min. 500 action plays).
Redskins finish with a new low in expected points
The Washington Redskins' offense added -28.8 expected points to the team's net scoring margin in Sunday's 20-6 loss to the New York Giants, Washington's worst offensive output in a game since 2006.
Kirk Cousins was limited to a 38.8 completion percentage (19-of-49) and an average of 3.5 yards per attempt. Cousins and the offense were forced to punt on their first five possessions (four of them after three downs). Their only points came on field goals after short drives beginning at New York's 18- and Washington's 46-yard lines. Washington averaged 3.4 yards per play (its second-worst of the season) and committed four turnovers.
The Redskins are the only team this season to finish in the bottom 10 in offensive, defensive and special teams EPA.
On the flip side, the Giants' defense had its best performance of the season. Defensive EPA takes into consideration how the defense keeps the opponent from moving the ball, forces turnovers and scores. By that measure, the Giants' defense contributed 28.8 points to the team's net scoring margin. It was the second-best defensive EPA performance by any team this season.