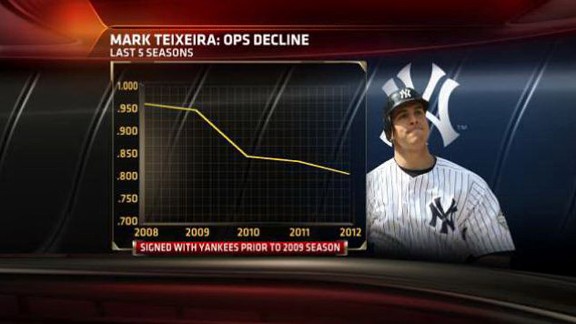 Mark Teixeira's offensive production has dropped steadily the last few seasons.Mark Teixeira is expected to rejoin the New York Yankees tonight with their three-game series starting against the Boston Red Sox. His return comes at a point at which the Yankees could use his offensive production, having lost five straight games.
Here's a look at some of the notable storylines related to his fit with this team.
Mark Teixeira vs Lyle Overbay
Through 1st 53 Team Games
What have the Yankees missed?
For whatever flaws he may have, Teixeira has remained a potent power threat. Over the last five seasons (since 2009), Teixeira ranks among the league leaders among first basemen in home runs, RBI and isolated power. And that's including this missed season.
On the defensive side, Teixeira was credited with 28 Defensive Runs Saved, third-most among first basemen. He had 17 last season to lead all players at that position.
Lyle Overbay, no slouch defensively, has two Defensive Runs Saved about a third of the way through the season.
Though Teixeira has averaged 34 homers a season in his career, the Yankees actually have received almost identical production from Overbay as they did from Teixeira through this point last season.
What are the Yankees getting?
Teixeira has a history of slow starts. He has a .766 career OPS in April. His OPS in every other calendar month (combining September/October) is .881 or better.
In his final season before signing with the Yankees, Teixeira hit .308/.410/.552 with 33 home runs and 121 RBI. That included a .358 BA and 1.081 OPS in his final 54 games after being traded to the Angels.
But since his first season in pinstripes (2009), he's been in steady decline. His slugging percentage has decreased from .565 in 2009 to .475 last season; his batting average has dropped from .292 to .251 over the same span.
Teixeira at Yankee Stadium
Since Joining Yankees
Add it up, and you have a five-season trend of OPS decline as shown in the chart atop this story.
What's also interesting is how Teixeira's production at home probably runs counter to public perception. While Teixeira is a power hitter in a park that favors home runs, his production at Yankee Stadium has dropped each season in pinstripes, even more pronounced than his overall decline. Those numbers are noted in the chart on the right.
What to Watch For Friday Night
Teixeira has long been vulnerable to offspeed pitches from right-handed pitchers (as a switch hitter, when he's hitting as a lefty), hitting .177 with a .633 OPS against them from 2010-12, never exceeding a .186 BA over that span.
But over the last three seasons, he's become increasingly unable to hit offspeed pitches from left-handed pitchers, too.
Teixeira's batting average/OPS combo against those pitches from lefties was .318/1.048 in 2010 and .279/.899 in 2011, but dipped to .204/.741 in 2012.
Teixeira also took called strikes on those pitches more frequently last season, when 31 percent of the offspeed pitches he took from lefties were called strikes, up from 19 percent in 2010.
Teixeira is a .250 career hitter against Lester, with one home run in 48 regular season/postseason at-bats.
He's struck out 18 times in 53 plate appearances against Lester, nearly double his strikeout rate against left-handed pitching through his career.
Mark Simon also contributed research to this post
About the ESPN Hot Zone
• Use the dropdowns to select sortable information about the player.
• A color will appear when there are at least five at-bats using the selected criteria.
• Click on the image to receive the averages that correspond with the data.
• The raw data will appear when there are fewer than five at-bats using the selected criteria.