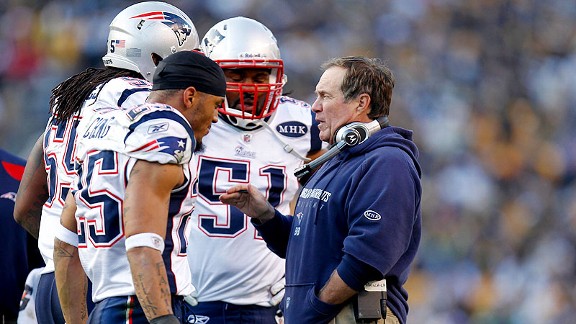 Gregory Shamus/Getty Images
Statistically bad in the regular season, Bill Belichick's defense has played better in the playoffs.A cursory glance at the New England Patriots defense paints the unit as everything from mediocre to historically bad. It gave up 411.1 yards per game in the regular season, the highest total of any Super Bowl participant in history.
New England ranked 31st in the NFL in both passing yards and total yards allowed, and also gave up a league-high 22 touchdown passes in the red zone this season.
Patriots Defense, Regular Season
However, the Patriots' defense has been a different unit this postseason, allowing only 325.0 yards per game and improving in a number of statistical categories (see chart).
Some of it can be attributed to opposition, but the impact of personnel continuity can't be overstated. For much of the season, the Patriots defense was without linebacker Brandon Spikes and safety Patrick Chung.
Spikes missed eight games with ankle and knee injuries. Chung also missed eight games with thumb and foot injuries. Both players were injured in New England's Week 9 loss to the New York Giants, and missed significant portions of the second half of the season.
Each player brings significant boosts to different parts of the defense. Spikes' reputation is as a run-stuffing linebacker, and the Patriots have allowed a touchdown once every 51 rushes with Spikes on the field (once every 26.7 rushes with him off the field).
Spikes' versatility has been on display in the postseason. In the divisional round against the Denver Broncos, Spikes registered a sack, tackle for loss, and pass defensed. A week later, Spikes made a one-handed interception of a Joe Flacco pass over the middle in New England's 23-20 win over the Ravens.
Safety Patrick Chung This Season
Chung has also provided some much-needed stability in the secondary.
The Patriots have had 13 different players play at least 100 snaps as a defensive back this season, the most of any team in the league. Comparatively, the Giants are tied for fewest with six. Chung has played in both playoff games, providing a major boost to the Patriots' pass defense.
One additional player who has stepped up is defensive end Mark Anderson. When Andre Carter went down in Week 15 against Denver, the pass-rushing specialist Anderson took over full-time and been productive. Anderson has four sacks and three tackles for loss since Week 15, which ranks third among all defenders in that time frame (including playoffs).