Like most new ballparks, Target Field has done wonders for baseball in Minnesota. Folks in the Twin Cities are once again excited to go support their team in person. But are Justin Morneau, Joe Mauer, and the other players excited about it? From a pure "batting" perspective, would they rather be back in the Metrodome? With the help of our friends at HitTracker Online, we can journey through time and space to see what would happen to home run balls if they had been hit in other ballparks.
So far this year there have been 50 home runs hit in 36 games at Target Field. That's only 1.4 per game, the fourth-lowest in the majors. Compare that to the 189 hit last season at the Metrodome, which is more than 2.3 per game. Additionally, the average home run distance in Minnesota is down nearly 14 feet -- from 400.2 to 386.6. Eight of last season's homers would have stayed in play in the new park. The challenge is to figure out why.

Obviously, the Twins' move outside brings the weather into play. In theory, cooler air holds more moisture, which prevents the ball from carrying quite as far. Last year, Twins fans only had to prepare for room temperature climate (68-70 degrees). In contrast, this season's game-time temps have ranged from 45 degrees (May 11) to 88 degrees (May 29). But only temperature extremes will impact home-run distances. The average ball at Target Field has only been "knocked down" by 10 inches because of it. The coldest homer was Morneau's on May 11, which traveled 376 feet and only lost two feet due to the 44-degree conditions. That one would have been a homer at the 'Dome as well.
So if the temperature effect is negligible, what about the wind? Right field at Target Field is open to an entrance plaza and the downtown skyline, whereas the rest of the stadium is double-decked, creating a wind swirl. Surely balls hit to right will get into that wind current one way or another.
This design feature seems to be the biggest reason why right field and right-center have proven to be a Death Valley for hitters. The prevailing winds in Minneapolis come from the south and southwest. Since home plate faces east, the wind usually either comes straight in from right, or it wraps around the end of the first-base stands. Low line drives have a chance at getting out (and do), but a fly ball gets pushed back toward center field where it's easily catchable. A spray chart of the homers hit this season shows only one to right-center and one to straightaway center. Compare that with last year at the Metrodome, where the homers were spread evenly around the outfield. This is despite the actual field dimensions of the two parks being nearly identical.
HRs hit at Metrodome in 2009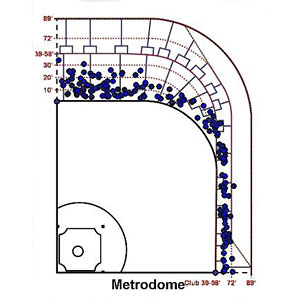 If you take the home runs the M&M Boys hit last season and superimpose them on a plot of Target Field, it's a wash. Every one of Morneau's bombs last season would also have gone out of the new place. Mauer does lose one homer in the move, but he also gains one back; a long fly ball that he hit on May 11 would have been a tater if they were still playing at the other end of town.
HRs hit at Target Field in 2010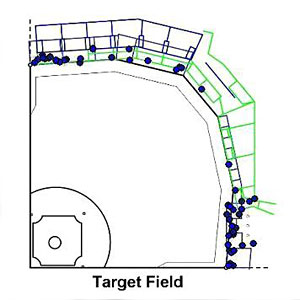 Both of Morneau's home runs at Target Field have been of the "low line drive to right" variety, where they sneak out of the stadium underneath the wind. Seven of his nine doubles there have also been to right or right-center -- where the wind would knock down any fly ball that had a chance. Overall, Morneau already has 12 two-baggers to the right side, the same number that he had all of last season. It's also possible that he's still feeling some effects from the stress fracture in his back that brought an early end to his season last year.
Data from Inside Edge suggests that Morneau is more reluctant to swing at fastballs this season, even though he's seeing the same number of good pitches to hit. His overall swing rate against all pitches has dropped, and against heaters, it's fallen from 45% to 36%. That suggests Morneau might be passing up some opportunities. In fact, he's hit more homers this season on off-speed pitches (seven) than on fastballs (six)-- after hitting twice as many on heat each of the last three seasons.
Mauer, who has yet to hit a home run in the new park, has the opposite problem-- NOT getting balls up in the air. Mauer is putting more balls on the ground, especially the ones right down the heart of the plate, which he crushed (.571 BA) last year. This season that average has dipped to .364, and the number of ground balls has doubled. Mauer has also fallen victim to better defensive positioning; his batting average on balls in play has dropped 45 points this year, and more than 100 on pitches that are over the middle of the plate horizontally.
Mauer could be feeling the wind also. He already has seven doubles to the right side; last year he finished the entire season with nine. Adding to that, HitTracker also categorizes each home run by how much extra it had after it cleared the fence. Of Mauer's 28 bombs last season, 11 weren't really "bombs". They had "just enough" to get out of the park. Seven of those were at the Metrodome. With just a slight loss of Mauer Power, plus the wind factoring in, all of those turn into outs.