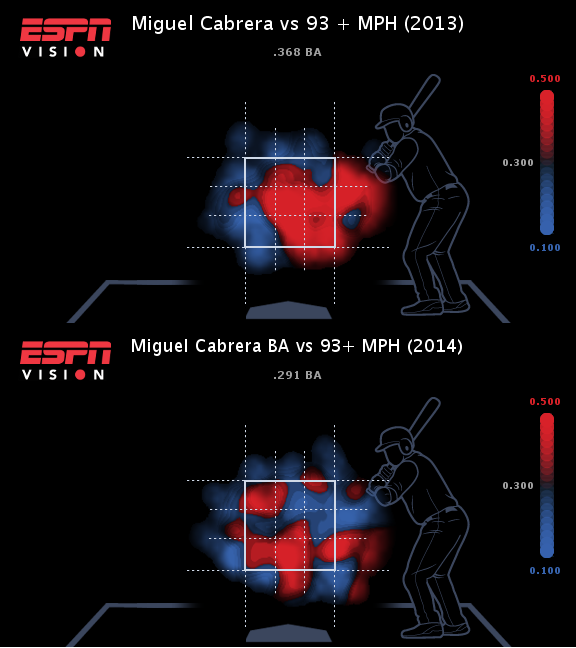 ESPN Stats & Information
Miguel Cabrera is not as good against the inner-half fastball as he was in 2013.The Detroit Tigers host the New York Yankees in the second game of their three-game series on "Wednesday Night Baseball" (7 ET, ESPN/WatchESPN). The Tigers took the first game of the series Tuesday as Rick Porcello earned his 15th win of the season, tied for the most in Major League Baseball.
Price changing pace
David Price Changeups This Season
David Price will make his fifth start for the Tigers since being acquired from the Rays on July 31, and so far, his changeup has keyed his success in the Motor City (see chart).
Hitters have combined to bat .089 (4-for-45) against Price with just one extra-base hit in at-bats ending in a changeup since the trade. That's the lowest opponent batting average against changeups by any pitcher since Aug. 1 (min. 20 batters faced).
It's been quite a turnaround for Price as opponents hit .300 (36-for-120) against his changeup in 23 starts with Tampa Bay this season.
Cabrera's power outage
Miguel Cabrera is on pace to hit .300 or better for the sixth straight season, but he's not doing it with the power he has in years past. Consider the following:
• Cabrera hasn't homered since Aug. 2 and ranks sixth on his team in slugging since hitting that home run (.350).
• Since the All-Star break, Cabrera has just 10 extra-base hits -- 3 HRs and 7 doubles -- which works out to an extra-base hit every 17 plate appearances. Cabrera recorded an extra-base hit every nine plate appearances in 2013.
• Cabrera has four homers and is slugging .525 with runners in scoring position this season. Last season, Cabrera hit 18 homers and slugged .782 in the same situations.
The biggest reason for the decline has been Cabrera's inconsistency against pitches on the inner half of the plate, particularly fastballs. Cabrera is slugging .589 against fastballs on the inner half this season with six home runs. In 2013, Cabrera slugged .788 with 18 home runs on such pitches, both of which led the majors.
Another rookie start for Yankees
Most Starts by Rookie Pitchers
This Season
Rookie right-hander Shane Greene gets the ball for New York on Wednesday, and it would mark the 53rd start this season by a Yankees rookie.
According to the Elias Sports Bureau, that's easily the most in baseball. Perhaps amazingly, the Bombers are 33-19 in games started by rookies this season (.635). Meanwhile, the Yankees are just 35-43 in all other games in 2014 (.449).
In Greene's only career appearance against the Tigers, the righty earned the win after throwing eight shutout innings with five strikeouts on Aug. 7 at Yankee Stadium. Greene will be on the road Wednesday, but the righty has been even better away from the Bronx, going 2-0 with a 2.63 ERA in four road starts this season.