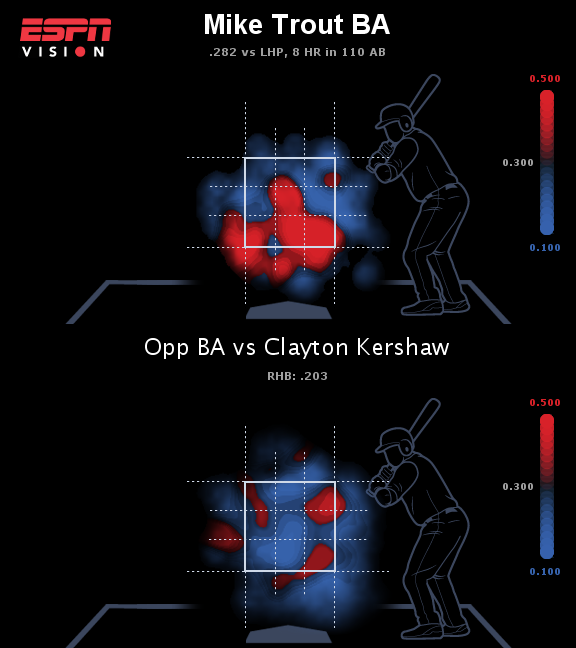 ESPN Stats & Information
The Trout-Kershaw matchup will test the strengths of both players.Hollywood loves a good blockbuster, and Tuesday night's battle in Chavez Ravine between the Los Angeles Angels and Los Angeles Dodgers will be no exception.
It will be the first ever regular-season meeting between Mike Trout and Clayton Kershaw.
Here are a few of the top stats to know for Tuesday night's marquee matchup.
Best of the best
Trout debuted for the Angels in 2011 (the season Kershaw won his first Cy Young award), but made a name for himself in 2012.
Since then, Trout has been arguably the best hitter in baseball, while Kershaw could be considered the game's best pitcher.
Most wins above replacement
2012 to present
Trout leads all position players in WAR since the start of 2012 and Kershaw leads all pitchers in WAR over the same stretch.
Not only are they both at the top of their games in 2014, but each has started his career in historically impressive fashion.
Trout has produced more WAR through age 22 than any position player in MLB since 1900. His 26.1 WAR from 2011 on is ahead of Ty Cobb's 25.5 and Ted Williams' 23.6 through their seasons at age 22.
Meanwhile, Kershaw has produced more WAR through his age 26 season (this season) than any pitcher to debut in the last 40 years. His 37.4 WAR since 2008 is ahead of Dwight Gooden's 36.5 and Bret Saberhagen's and Roger Clemens' third-place tie at 35.7 through their seasons at age 26.
Strength vs. strength
One thing to keep an eye on will be how Trout handles Kershaw's pitches in the lower third of the strike zone and below.
Kershaw on pitches 'down' in 2014
Kershaw ranks at or near the top in baseball in effectiveness with pitches down in the zone.
It's also worth noting that Kershaw has thrown an increasingly high percentage (46.0) of his pitches down, a jump from 37.3 percent a season ago and 36.5 percent in 2012.
Meanwhile, Trout has crushed pitches down in the zone, leading MLB with a .382 batting average, .763 slugging percentage and 17 home runs this season on pitches in that location.
Fastballs early, curveballs late
When thinking about how Kershaw might pitch to Trout, consider how Trout has fared against each of the types of pitches Kershaw throws.
Mike Trout batting average
by pitch this season
Eighty-five percent of Kershaw's first pitches this season have been fastballs, while Trout ranks in the bottom third of the league in batting average against fastballs. Against first-pitch fastballs, Trout is hitting .250 this season, which ranks in the 13th percentile across MLB.
Trout has also struggled to hit pitches thrown up in the zone.
If Kershaw can survive deep in the count, he has thrown the curveball on 36 percent of his two-strike pitches up in the zone this season, the highest rate of any starter in MLB. Trout has seen 131 curveballs up in the zone in his career and has produced zero hits on just seven swings.